The Wing Luke Museum, International Examiner, and Town Hall Seattle present
No-No Boy
Redefining folk through Asian American history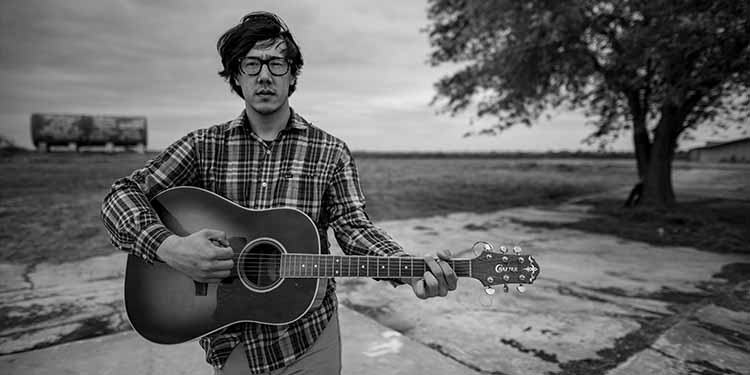 Everything that Vietnamese-American musician Julian Saporiti touches is rooted in history. Take his musical project, No-No Boy, for example. The seeds for No-No Boy were planted during a visit to the site of Heart Mountain Japanese incarceration camp in Wyoming. There, he encountered a WWII-era photograph of an all-Japanese jazz band that formed during their incarceration by the U.S. government. Under such dire circumstances, how did a group of Asian musicians come together to play jazz, of all things? The photo provoked Saporiti to explore culture, genre, and authenticity through musical storytelling; in the process, elevating Asian histories through the voice of No-No Boy.
And oh, what a voice. In a song about the photograph that sparked No-No Boy into existence, "The Best Damn Band in Wyoming" (from the album 1975, released with Smithsonian Folkways), Saporiti writes:
Under starlight they danced behind barbed wire
Under the mountain, it meant something to sing
Stuck between two countries in a fire
The best god damn band in Wyoming
The stories themselves are often heavy, tracing themes of race, immigration, displacement, oppression, and incarceration. But despite the difficult and painful past, No-No Boy delivers a sense of uplift, calm, and connection through immersive, almost meditative multimedia experiences that expand the definition of American folk music. Through a blend of original songs, historical recordings, and archival photos, audiences encounter the stories that desperately need to be told — No-No Boy only encourages us to listen.
Julian Saporiti is a Vietnamese-American songwriter and scholar born in Nashville, Tennessee. His multi-media work, "No-No Boy," has transformed his doctoral research on Asian American history into concerts, albums, and films which have reached a broad and diverse public audience. By using art to dive into highly divisive issues such as race, refugees, and immigration, Saporiti aims to allow audience members to sit with complication as music and visuals open doorways to difficult histories.
Saporiti has taught courses in songwriting, music, literature, history, Asian American Studies, and ethnic studies at the University of Wyoming, Colorado College, and Brown University and has served as artist/scholar in residence at many universities and high schools across the country. Saporiti holds degrees from Berklee College of Music, University of Wyoming, and Brown University, and has been commissioned by cultural institutions such as Lincoln Center, the LA Philharmonic, the National Parks, and Carnegie Hall. His latest album, 1975, was released by Smithsonian Folkways earlier this year.
---
Presented by the Wing Luke Museum, International Examiner, and Town Hall Seattle.