Nabil Ayers with Cheryl Waters
Music, Roots, and Redefining Family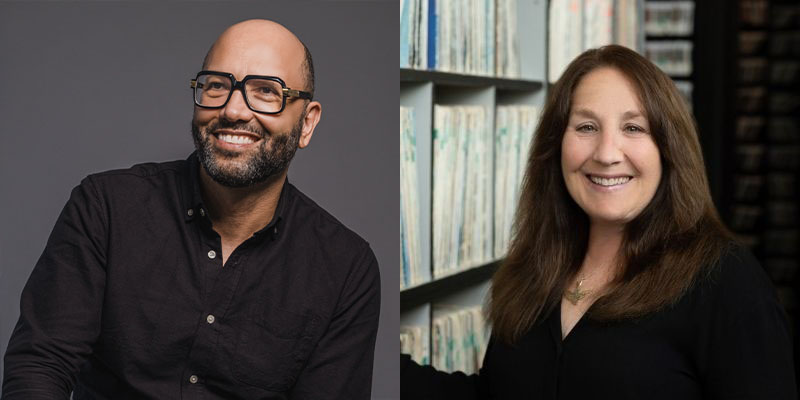 Nabil Ayers has been part of the music scene in many capacities: musician, record-label creator, band manager, music executive, and founder of Seattle's Sonic Boom Records. He is also an author, writing about music and race for the New York Times, Rolling Stone, and many others.
Now Ayers has written a new memoir, My Life in the Sunshine: Searching for My Father and Discovering My Family, about his relationship with his father, Black jazz musician Roy Ayers; being a mixed-race person in the United States; and his work in the music industry.
While Ayers' famous musician father was rarely present in his life, he still turned out to be a strong influence, showing up in Ayers' love of music and his eclectic career in the music industry. Motivated by his father's absence, Ayers researched and connected with other extended family members and discovered the existence of several half-siblings, as well as a paternal ancestor who was enslaved. Following these new family connections, Nabil meets and befriends the descendant of the plantation owner, which strangely paves the way for him to make meaningful connections with other extended family he never knew existed.
In conversation with KEXP's Cheryl Waters, Ayers discusses his drive to understand his roots and redraw the lines that define family and race.
Nabil Ayers has written about race and music for The New York Times, NPR, Pitchfork, Rolling Stone and GQ. Ayers is the President of Beggars Group US, where he has run campaigns for The National, Big Thief, Grimes, Future Islands and St. Vincent, as well as reissue campaigns including Pixies' album Doolittle which was certified Platinum in 2019.
At age 25, Ayers and his business partner opened Seattle's Sonic Boom Records store, which they sold to a longtime customer in 2016. As a drummer Ayers has performed in several bands including The Long Winters and Tommy Stinson. On his own record label, The Control Group/Valley of Search, Ayers has released music by Cate Le Bon, Lykke Li, The Killers, PJ Harvey, Patricia Brennan, and his uncle, the jazz musician Alan Braufman.
Ayers lives with his wife in Brooklyn, NY.
For more than 25 years, radio DJ and producer Cheryl Waters has been enriching people's lives through artist advocacy and music discovery at the influential Seattle radio station KEXP. A lifelong music lover, Cheryl's career in radio began in 1994 as a volunteer DJ at the station, then-known as KCMU, while she was working as an environmental scientist. Since 2005, Cheryl has been the host of the Midday Show on KEXP, a daily music program where she interviews and champions a wide spectrum of musicians from KEXP's studios in Seattle, WA, as well as at remote broadcasts in cities ranging from New York and Austin to Mexico City and Reykjavik. In her role as the station's Live Performances Manager, Cheryl curates and books more than 300 live sessions at KEXP each year, which have collectively received over 1 billion views worldwide on KEXP's YouTube channel, which has over 2 million subscribers.
---
Presented by Town Hall Seattle.