Mozart Birthday Toast
An evening of classical favorites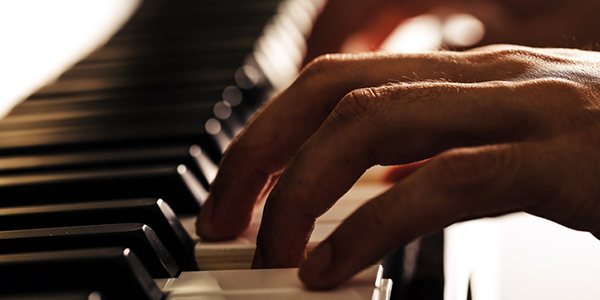 For Town Hall's ninth annual toast to Mozart's birthday, host and curator Byron Schenkman takes their place on the piano for an evening performance of classical favorites. They are joined by Lee Peterson on piano, Nathan Whittaker on cello, and Rachell Ellen Wong on violin. Clink glasses of bubbles and enjoy a spread of chocolates, and join us after the concert for a reception and birthday toast in celebration of this legendary composer!
The afternoon's repertoire will feature: Sonata in C Major, K. 19 d, for piano, four hands; Sonata in F Major, K. 376, for violin and piano; Variations on theme of Salieri, for piano; and Trio in B-flat Major, K. 502, for violin, cello, and piano.
Byron Schenkman (piano) has been a founding member of several ensembles, including the Seattle Baroque Orchestra which they co-directed until 2013. They have received the Erwin Bodky Award from the Cambridge Society for Early Music, and they were voted "Best Classical Instrumentalists" by the readers of Seattle Weekly.
Lee Peterson (piano) has taught at five universities, recently as Assistant Professor of Music and Accompanying Program Coordinator at Baylor University and as an adjunct faculty member at Seattle University. Currently Assistant Director of Choral Music at SU, Lee has been associated with the Seattle University choirs since 1999.
Nathan Whittaker (cello) enjoys a unique and diverse career as a concert soloist, chamber musician, recitalist, teacher, and historical cello specialist with concert stops ranging from Seattle to New York to Dubai. He regularly performs with the Seattle Baroque Orchestra, Pacific Baroque Orchestra, Portland Baroque Orchestra, and others.
Rachell Ellen Wong (violin) has performed solos with orchestras across the US and abroad, including Julliard415, Orchestra Sinfónica Nacional de Panamá, New Zealand String Quartet, and recitals with the world-renowned pianist Anton Nel. She has won numerous international prizes—most recently receiving 4th prize in the XXI International J.S. Bach Competition.
---
Presented by Town Hall Seattle.