Mokoomba and Chimurenga Renaissance
A double-booked night of Zimbabwean rhythms and Afro-fusion
Breaking Borders: Global Rhythms 2018-2019 trailer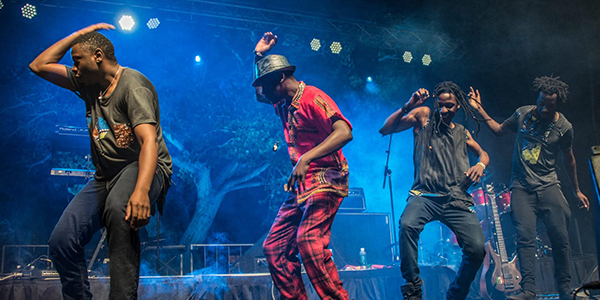 Town Hall presents a Global Rhythms concert that brings together two powerhouses of Zimbabwean rhythms for the first time. Mokoomba and Chimurenga Renaissance—separated only by an ocean—unite to celebrate the culture and heritage that inspires their music.
Local Zimbabwean-American artist Tendai "Baba" Maraire (of Shabazz Palaces) upholds the PNW's legacy of flourishing Zimbabwean music—a legacy founded by his father Dumisani Maraire. Tendai joins Congolese-American guitarist Hussein Kalonji to form Chimurenga Renaissance, merging hip-hop and Congolese guitar with classic African musical traditions. Tendai's inspiration resonates with award-winning Zimbabwean band Mokoomba, who blend Afro-fusion and traditional Tonga rhythms. These rising stars of African music mix Afrobeat and Afrorock with sounds rooted in the life and local traditions of their hometown of Victoria Falls on the Zambezi River. Join us for Mokoomba and Chimurenga Renaissance sharing the stage in their first ever back-to-back performances.
Presented by Town Hall Seattle as part of the Arts & Culture series.