Michi Hirata North, Northwest Sinfonietta, and Christophe Chagnard present
SOLD OUT – Michi Hirata North
Michi's Piano Journey: From age 9 to 91, Japan to the Pacific NW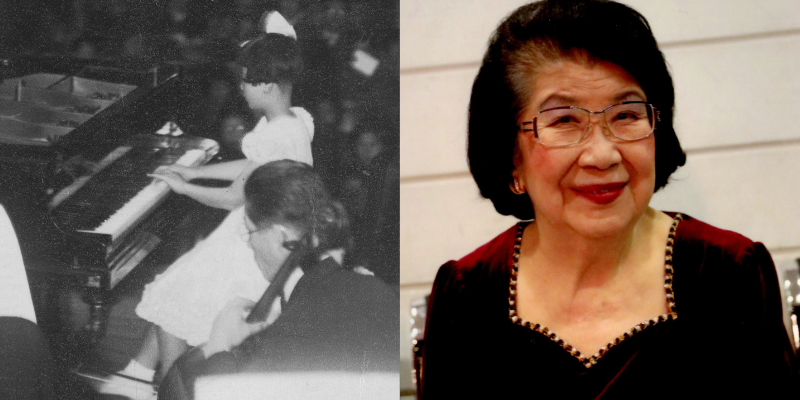 At the dawn of World War II, in Tokyo Japan, Michi made her orchestral debut at age 9. During the American Occupation, she performed many times for General MacArthur who requested Gershwin's Rhapsody in Blue dozens of times. Several years later, still a teenager, and without speaking a word of English, Michi traveled to the United States aboard the S.S. President Cleveland. This new life in America included a full scholarship to Juilliard in New York City, and extended stays in the Midwest, Alaska, and later Washington State. Her personal and professional career included decades of touring, performing, and teaching; and raising 5 sons with her husband. Now, at age 91, Michi wants to share her final piano concert in the place she has called home for almost 50 years. Michi will perform pieces by Mozart and Tchaikovsky with the Northwest Sinfonietta. Christophe Chagnard conducts.
PROGRAM:
Mozart: Marriage of Figaro Overture
Mozart: Piano Concerto No. 27  K. 595
Tchaikovsky: Piano Concerto No. 1
---
Michi Hirata North, pianist
Born in 1931 in Tokyo Japan, Michi Hirata North began her piano study at age four under her father's guidance. Michi drew national attention at her 1941 professional debut, with the Shin Philharmonic Orchestra, for her performance of the Mozart B-flat major Concerto K. 595. After WWII, and still a teenager, her reputation soared as one of Japan's most outstanding young pianists.
Among her many solo and guest performances during these years were the Toho Symphony Orchestra concert, and the 1947 Tenth Anniversary Commemorative Concert of George Gershwin's death. With the Toho Symphony, she played the Beethoven First Concerto, the Liszt Hungarian Fantasy, and the Tchaikovsky Concerto #1, all on the same program. And, during the American Occupation of Japan, General Douglas MacArthur invited her to perform many times at his residence, and at special events. Gershwin's Rhapsody in Blue was one of MacArthur's favorites. Word spread about her 1947 commemorative Gershwin concert. The response was so positive that, by the time she left for the United States in 1951, she had received over 91 performance requests (many by Gen. MacArthur) for Rhapsody in Blue.
In 1951 Michi arrived in the U.S. with a full scholarship to study with Dr. Rudolph Ganz at the Chicago Musical College. She continued her studies at the Juilliard School of Music with another full scholarship under the guidance of Mme. Rosina Lhevinne. Juilliard classmates included Van Cliburn, John Browning, and Daniel Pollack.
After Juilliard, Michi married, started a family, and continued to teach and perform. During these years she and her family relocated multiple times to work as either an artist-in-residence or faculty at the Alaska Methodist University, Western Washington University, Willamette University, University of Maine, and the University of Nebraska. In the 1980s Michi and her husband settled in Bellevue Washington where her career and reputation as an International Principal Suzuki Piano Teacher Trainer, touring concert artist, and masterclass teacher continued to soar. She frequently traveled to Japan, Ireland, Australia, Korea, Canada, Taiwan, and China to teach, and give concerts and masterclasses; most notably at the Xian Conservatory and Shenyang International Music Festival. She has toured extensively in the U.S., served as a judge for the New Orleans International Piano Competition, and received a Rockefeller Grant in recognition of her musical achievements.
As Michi entered her eighth decade, her performance schedule did not wane as one might expect. In 2015 she performed at the University of Washington's Meany Hall in a 75th-anniversary concert commemorating her professional debut. In 2019, Michi celebrated her 88th birthday by performing at Town Hall Seattle with the Lake Union Civic Orchestra (LUCO). And in 2020, just two weeks prior to the COVID-19 outbreak, Michi performed at the Beijing Concert Hall for the 2020 Beijing Suzuki Friendship Concert. On April 16th, 2023, Michi ends her concert career with a final Town Hall performance. She will continue to serve, by exclusive appointment from Dr. Shinichi Suzuki, as a teacher of Dr. Suzuki's philosophies as well as her own distinctive piano techniques. She plans to instruct both students and piano teachers from her Bellevue WA home studio.
Christophe Chagnard, conductor
Engagement through creativity has been at the core of Christophe Chagnard's philosophy throughout his distinguished career. As a composer, his music addressed pressing global issues such as climate change, systemic racism, intolerance, and social injustice. As a Grammy-nominated conductor, Chagnard has led a vast repertoire of symphonic, operatic, and ballet works of all styles and periods. He has also spent three decades making the concert hall accessible to all, addressing the elitist stereotype that plagues this art form.
Stepping beyond the bounds of music, Chagnard was appointed Artistic Director at Earthbound Expeditions in 2018, curating cultural trips worldwide. In 2020, he founded his own boutique company, Renewal Journeys, for intimate groups of travelers seeking the ultimate in custom cultural exploration. Deepening his commitment to environmental sustainability, he founded Earth Creative, a non-profit dedicated to promoting artistic creations that use nature as the medium to raise awareness about our threatened environment and climate change.
Chagnard served as Director of Outreach at Classical KING FM 98.1, co-founded the Northwest Sinfonietta, and served as Music Director of the Lake Union Civic Orchestra for 20 years. He served on the faculty of the Berklee College of Music, became the first Music Director of the New England String Ensemble in Boston, and served as Director of Orchestras at the University of Puget Sound.
He is a prolific composer whose works have been heard widely across North America and in Europe. His most recent compositions include Gaman (2017), commissioned by Music of Remembrance to commemorate the anniversary of the incarceration of Japanese Americans during WW II, and Terra Nostra (2019), a multi-media symphonic creation about climate change. Chagnard received his musical training in composition and conducting from Berklee College of Music and New England Conservatory where he studied with Frank Battisti, Benjamin Zander, and Pascal Verrot.
NW Sinfonietta, orchestra
Founded in 1991 by conductor Christophe Chagnard and harpsichordist Kathryn Habedank, Northwest Sinfonietta is the premiere, professional chamber orchestra in the Puget Sound area. As an ensemble of 35 musicians, the Sinfonietta (meaning 'little symphony' in Italian) blends the intimacy of chamber music with the power of a full symphony orchestra. Northwest Sinfonietta is currently working with three world-class Artistic Partners—Mei-Ann Chen, Yaniv Attar, and Jeffery Meyer—who conduct the orchestra's subscription concerts in Tacoma and Puyallup venues.
---
Presented by Michi Hirata North, Northwest Sinfonietta, and Christophe Chagnard.