Event Format:
Virtual (no in-person attendance)
Presented by Town Hall Seattle and World Affairs Council
Michael Mandelbaum with Jacqueline Miller and Jacqueline Miller
The Four Ages of American Foreign Policy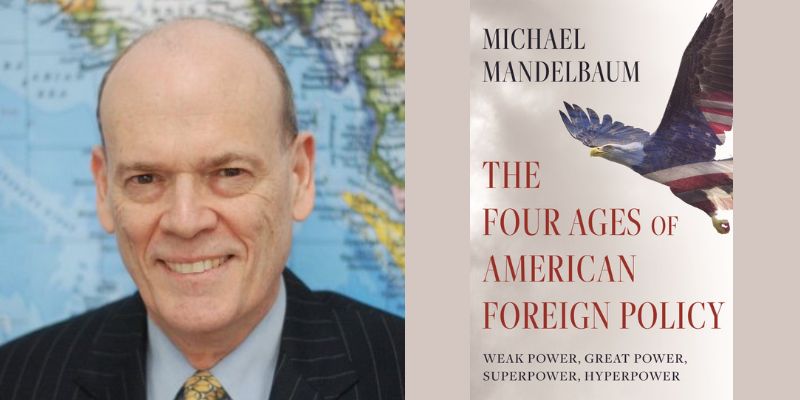 $5
Thursday, June 16, 2022, 6:00PM
Digital Stage
This is a virtual event, no in-person attendance is available.
With its massive economy and military budget, America is the world's most powerful country. How did the U.S. come to have so much power to affect nations and people around the globe? How did the country achieve this status over the past 250 years?
Michael Mandelbaum helps us understand how the U.S. got here through the evolution of its foreign policy. In his latest book, The Four Ages of American Foreign Policy, he divides U.S. history into four distinct periods, each defined by a consistent increase in American power and each with major events and important personalities at play. He portrays the ascent of the U.S., first as a "weak power," from 1765 to 1865, followed by a "great power" between 1865 and 1945, next as a "superpower" from 1945 to 1990, and finally as the world's sole "hyperpower" from 1990 to 2015.
Mandelbaum also identifies three features of American foreign policy that are found in every era: first, the goal of spreading political ideas; second, the use of economic instruments to achieve foreign policy goals; and third, a process for creating and implementing policy that's shaped by input from the public. American foreign policy, as he puts it, has been unusually ideological, unusually economic, and unusually democratic. He argues that these practices continue today.
In what has been called a "…deeply insightful — and disturbing — analysis of both history and current affairs" (Kirkus Reviews), Mandelbaum sparks readers to think about America's path to power and what future eras might hold.
Michael Mandelbaum is the Christian A. Herter Professor Emeritus of American Foreign Policy at The Johns Hopkins School of Advanced International Studies. He is the author of sixteen previous books, including Mission Failure (2016), The Rise and Fall of Peace on Earth (2019), and, with Thomas L. Friedman, That Used to Be Us (2011).
---
Presented by Town Hall Seattle and World Affairs Council.