Dr. MeiLan K. Han with Dr. Albert Rizzo
A Doctor's Guide to Lung Health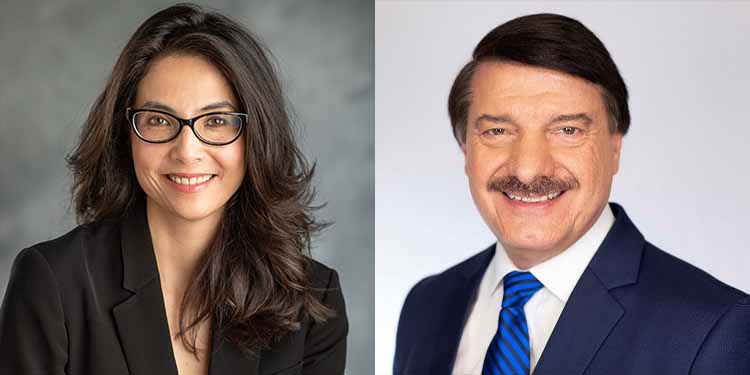 On average, a person takes around 20,000 breaths each day; yet most of us never notice the rhythmic rush of air flowing in and out, keeping our bodies oxygenated and alive. And as many asthma or respiratory distress sufferers will attest, you don't want to notice. But things are happening all around us that threaten our blissful ignorance of breathing — wildfire smoke, indoor and outdoor pollution, and Viruses like COVID-19, to name a few — and they will continue to impact us unless we take action.
In her new book, Breathing Lessons: A Doctor's Guide to Lung Health, leading pulmonologist Dr. MeiLan K. Han breaks down the wonders of breathing in an authoritative guide to how our lungs work and how to protect them. Dr. Han, a national spokesperson for the American Lung Association, shares some of the latest scientific thinking about the respiratory risks we currently face. As the threat of seasonal wildfire smoke grows, new diseases develop, and pollutants continue to be dispersed in the air, we still need to breathe. There's no better time to learn more about how lungs work; and, Dr. Han argues, focus on social policy that prioritizes lung health nationwide.
MeiLan K. Han, MD, is a professor of medicine in the Division of Pulmonary and Critical Care at the University of Michigan. She also serves on the scientific advisory committees for both the COPD Foundation and American Lung Association and serves as a spokesperson for the American Lung Association. She is currently an Associate Editor for the American Journal of Respiratory and Critical Care Medicine and serves on the editorial boards for Thorax, Lancet Respiratory Medicine, and Journal of the COPD Foundation.
Albert A. Rizzo, M.D., FACP, is Chief Medical Officer for the American Lung Association and is a member of Christiana Care Pulmonary Associates in Newark, Delaware. He has been featured in national news outlets including CNN, The New York Times, ABC News, The TODAY Show, and hundreds more. He serves as the host of the Lung Association's LungCast™ podcast.
---
Presented by Town Hall Seattle.