Town Hall Seattle and Gage Academy of Art present
Mary Ann Peters with Gary Faigin
Afterimage: An Artist's Exploration of the Migration Crisis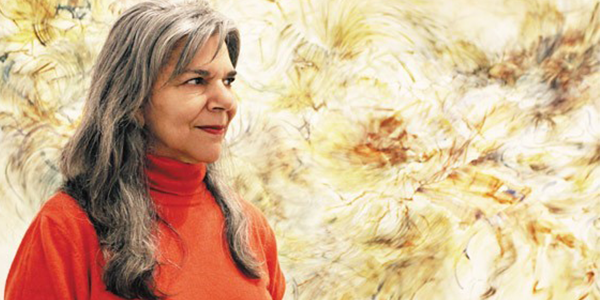 Read a pre-event interview with Mary Ann about her work and what inspired this current series.
---
Mary Ann Peters, a longtime presence in the Seattle art scene, is best known for her explosive, even apocalyptic paintings. She renders abstract and semi-abstract forms colliding and swirling, suggesting earthquakes, deluges, or the creation of new life forms. In the past few years, Peters' energetic imagination has found a new focus: the migration crisis. Of Middle-Eastern extraction herself, Peters has extended not only her subject matter but her stylistic approach, and her recent works explore displacement from multiple, often unexpected perspectives, producing artworks as diverse as giant drawings, installations, and sculptures made of flour or glycerin. Peters will be joined onstage by realist painter Gary Faigin, who serves as the Artistic Director at the Gage Academy of Art. Sit in with Peters and Faigin as they discuss the shift in Peters' work, and how through research, intuition, and gut feeling, her pieces come together.
Presented by Town Hall Seattle and GAGE Academy of Arts as part of the Arts & Culture series.