Mark Gevisser with Samantha Allen (livestream)
Journeys Across the World's Queer Frontiers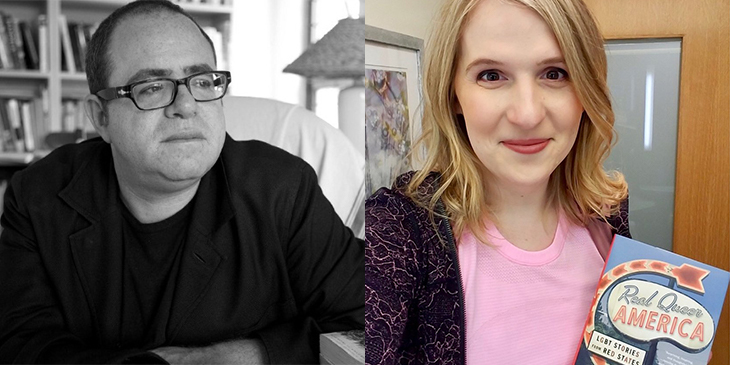 According to journalist Mark Gevisser, no social movement has brought change so quickly and with such dramatically mixed results as that around sexual orientation and gender identity in the first two decades of the 21st century. As new globalized queer identities are adopted by people across the world, fresh culture wars have emerged and a new Pink Line has been drawn across the globe.
In a livestreamed conversation with fellow journalist Samantha Allen, Gevisser draws upon research from his new book The Pink Line: Journeys Across the World's Queer Frontiers. He argues that the conversation around LGBTQ+ identities has divided the world in an entirely new way—while same-sex marriage and gender transition are celebrated in some parts of the world, the criminalization of homosexuality and gender nonconformity are escalating in others. He threads together seemingly disparate discussions faced by queer communities worldwide, offering sharp analysis of topics from identity politics, religion, and gender ideology to capitalism, human rights, and geopolitics. With sensitive and sometimes startling profiles of queer folk from around the world, Mark Gevisser takes us to the frontiers of the new Pink Line, and on a monumental journey of unprecedented scope into modern-day identity.
Mark Gevisser is a South African author and journalist. His books A Legacy of Liberation: Thabo Mbeki and the Future of the South African Dream and Portraits of Power: Profiles in a Changing South Africa focus on South African politics. His memoir, Lost and Found in Johannesburg, explores his fascination with maps, boundaries, and transgressions, and he is also the co-editor of the pathbreaking anthology Defiant Desire: Gay and Lesbian Lives in South Africa. His journalism and commentary have appeared in The New York Times, The Guardian, The Wall Street Journal, and others.
Samantha Allen is a GLAAD Award-winning journalist and the author of Real Queer America: LGBT Stories from Red States. Her writing has been published in The New York Times, CNN, Rolling Stone, and more. She holds a Ph.D in Women's, Gender, and Sexuality Studies from Emory University and received the Kinsey Institute's John Money Fellowship for Scholars of Sexology in 2013.
---
Presented by Town Hall Seattle.