Margaret McKeown and Sally Jewell
The SCOTUS Steward: The Environmental Legacy of William O. Douglas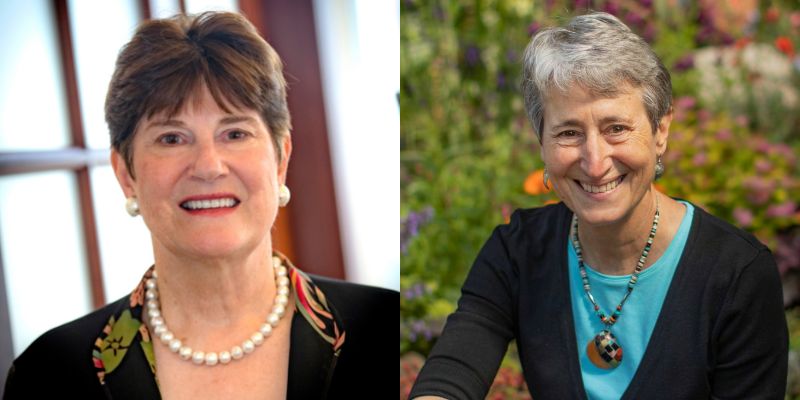 Long before "going green" became a hashtag, people like William O. Douglas were on the front lines of the environmental justice movement. Despite being known for some notable accomplishments — for example, the fact that he was the longest serving U.S. Supreme Court justice, having sat from 1939-1975 — Douglas largely remained an unsung environmental advocate.
Author and U.S. Court of Appeals Judge M. Margaret McKeown's new book, Citizen Justice: The Environmental Legacy of William O. Douglas explores Douglas's impact not only during his near forty-year SCOTUS tenure, but the ripple effects that helped shape environmental policy and practice today. Douglas, nominated to the U.S. Supreme Court by President Franklin D. Roosevelt, embraced both a personal and political connection to nature, which fueled his drive to save trees and protect the land. Despite these achievements, he was not without controversy: impeachments, oppositions, and a series of failed marriages marred his public image. Though a complex figure, his commitment to bettering the earth is indisputable.
Joining with McKeown at Town Hall is former U.S. Secretary of the Interior and former CEO of recreational giant REI, Sally Jewell. The two will discuss the ways that Citizen Justice elucidates the tensions that arose from Douglas's efforts, as well as the contemporary lessons that we can draw from them as we examine one man's life — and legacy — on the road to achieving environmental justice.
Judge M. Margaret McKeown was appointed to the United States Court of Appeals for the Ninth Circuit in 1998. She holds a J.D. and an honorary doctorate from Georgetown University Law Center.Before her appointment, Judge McKeown was the first female partner at Perkins Coie in Seattle and Washington, D.C., and served as a White House Fellow. Judge McKeown has lectured throughout the world on international law, human rights law, intellectual property, litigation, ethics, judicial administration, and constitutional law and has participated in numerous rule of law initiatives with judges and lawyers. She is a member of the American Academy of Arts and Sciences and received the ABA Margaret Brent Women Lawyers of Achievement award, the ABA John Marshall Award, and the Girl Scouts Cool Woman Award, among others.
Sally Jewell served as U.S. Secretary of the Interior from 2013-17, overseeing the nation's national parks, wildlife refuges, and public lands, working closely with Indigenous peoples during a period when President Obama protected more lands and waters than any other U.S. president. Previously, she was President and CEO of outdoor retailer REI. Jewell currently serves on the board of The Nature Conservancy and other corporate and non-profit boards, and has held fellowships at the University of Washington and Harvard. A lifelong outdoor enthusiast, she has explored our public lands from coast to coast, with a deep appreciation of the people who have stewarded them since time immemorial.
---
Presented by Town Hall Seattle.