This event has already occurred, check out our calendar for upcoming events
In The Moment Podcast Ep. 66
Lyric World: Shin Yu Pai with Prageeta Sharma and afrose fatima ahmed
In light of the stay-at-home order, Town Hall is presenting digital-first programming such as this podcast—plus livestreams, curated archive selections, and more!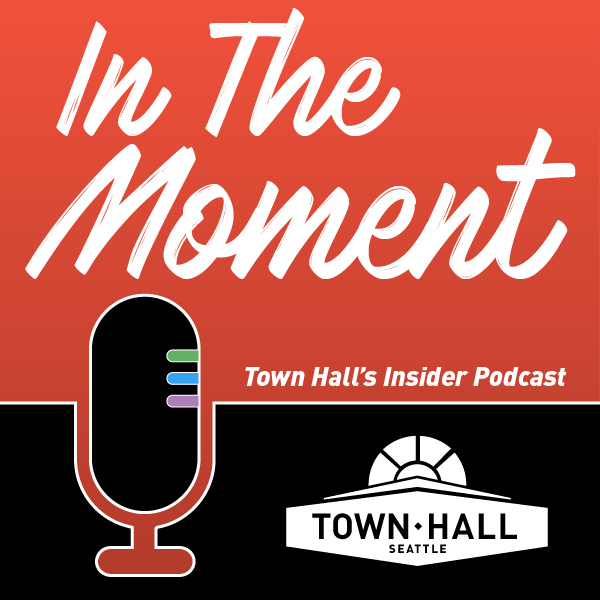 The
In The Moment podcast
offers a slice of Town Hall culture and puts you in the room for exclusive behind-the-scenes conversations. Listen in as a rotating cast of prominent local voices, along with Chief Correspondent Steve Scher, sit down with Town Hall speakers for an insider perspective you won't find anywhere else.
In this week's episode, correspondent and poet Shin Yu Pai introduces a second installment of Lyric World, featuring fellow poets Prageeta Sharma and afrose fatima ahmed. By sharing her own work on grief and grieving, Sharma explores the idea of imagined futures cut short and how a particular loss can awaken memories of previous grief. Sharma delves deeper in conversation with ahmed and Pai about the role of poetry in articulating and transcending complex grief. As our world cries out in grief, begin to process it with Pai, Sharma, and ahmed—and get an insider's look and stay in the know about what's going on in this moment at Town Hall Seattle.
Prageeta Sharma is the author of the poetry collections Grief Sequence, Undergloom, Infamous Landscapes, The Opening Question, and Bliss to Fill. She is the founder of the conference Thinking Its Presence: Race, Creative Writing, Literary Studies and Art. A recipient of the 2010 Howard Foundation Award, she has taught at the University of Montana and now teaches at Pomona College.
afrose fatima ahmed is a hybrid Texan-Washingtonian raised in the Tri-Cities who provides poetic soul guidance with her oracle deck "blood gold and honey." She was a 2017 Jack Straw Writer and a 2018 GAP award recipient from Artist Trust. afrose comes to poetry as just one avenue for creating experiences of beauty and communion for herself and other people. Visit her website at  www.afrosefatimaahmed.com.
Shin Yu Pai is the author of eight books of poetry. Her work has appeared in publications throughout the U.S., Japan, China, Taiwan, The United Kingdom, and Canada. Her essays and nonfiction writing have appeared in Tricycle, YES! Magazine, The Rumpus, City Arts, The Stranger, Medium, and others.
Lyric World: Conversations with Contemporary Poets is fiscally sponsored by Shunpike. The series is supported by grants from the City of Seattle's Office of Arts and Culture, Windrose Fund, Poets & Writers, and The Satterberg Foundation.
---
Presented by Town Hall Seattle.