Event Format:
In-Person Only
Ni Tan Tarde Productions LLC presents
Luis Chataing
Básico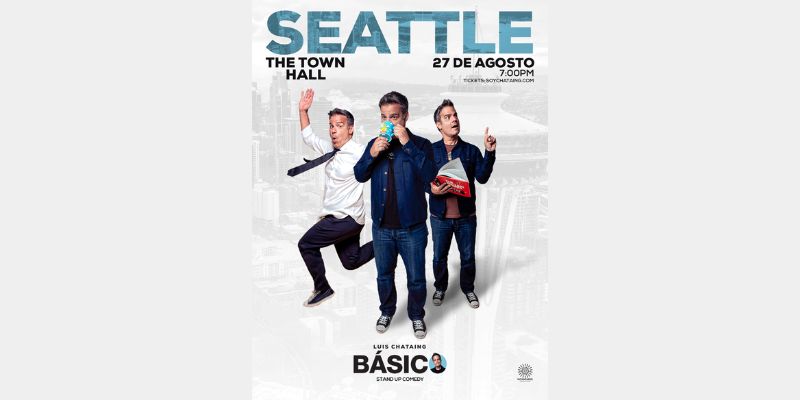 ($40.00 – $45.00)
Saturday, August 27, 2022, 8:00PM
The Forum
1119 8th Ave (Entrance off Seneca St.)
Seattle, Washington 98101
This is an in-person event only, no virtual attendance is available.
Después de ausentarse de los escenarios durante un año y siete meses, Luis Chataing regresa para presentar Básico un show de stand up comedy que conecta con el ánimo de muchos en redescubrir las cosas más sencillas, las cosas esenciales, tan necesarias para entender cómo llegamos a este tiempo de cambios radicales. El espectáculo es también la oportunidad de Chataing para compartir su versión de lo acontecido durante el inesperado tiempo de cuarentena, de virus, de trabajar y estudiar desde casa, de vieja y nueva normalidad.
Básico es el quinto show de stand up en la carrera de Chataing con el que (quiénes hemos presenciado los ensayos) podemos asegurar que no aprendió nada de los cuatro shows anteriores, y eso está bien … está muy bien.
Acompaña a Chataing en la gira inicial de Básico y aplaude, apláudelo mucho, lo verás llorar en el escenario, la edad y la cuarentena lo han puesto llorón.
Luis Chataing es locutor, actor, presentador de televisión y comediante. Es conocido por el programa Stand Up Comedy.
Presentado por Producciones Ni Tan Tarde. Este evento se presentará en Español.
---
After being absent from the stage for a year and seven months, Luis Chataing returns to present Básico, a Stand Up Comedy show that connects with the spirit of many in rediscovering the simplest things, the essential things, so necessary to understand how we come to this time of radical change. The show is also Chataing's opportunity to share his version of what happened during the unexpected time of quarantine, of viruses, of working and studying from home, of old and new normality.
Básico is the fifth stand-up show in Chataing's career with which (who have witnessed the rehearsals) can assure that he did not learn anything from the previous four shows, and that is fine… very good.
Join Chataing on the initial tour of Básico and clap your hands, applaud him a lot — you will see him cry on stage, age and quarantine have made him cry.
Luis Chataing is an announcer, actor, television presenter, and comedian. He is known for the show Stand Up Comedy.
Presented by Ni Tan Tarde Productions. This event will be presented in Spanish.