Liz Carlisle with Latrice Tatsey and Hillel Echo-Hawk
Climate, Justice, and the Deep Roots of Regenerative Farming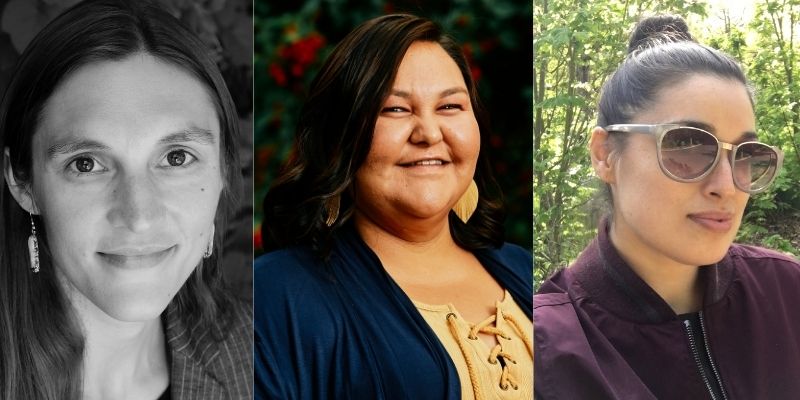 There's a powerful movement happening in farming today, and it's not a movement focused on flashy technology or producing food faster or at larger scales. Instead, it's a movement that centers on farmers reconnecting with their roots, reviving their ancestors' methods of growing food, healing their communities, and ultimately fighting climate change.
In her new book, Healing Grounds, Liz Carlisle shares the stories of Indigenous, Black, Latinx, and Asian American farmers who are restoring native prairies, nurturing beneficial fungi, and enriching soil health to feed their communities and revitalize cultural ties to the land. One woman learned her tribe's history to help bring back the buffalo. Another preserved forest that was purchased by her great-great-uncle, who was among the first wave of African Americans to buy land. Others have rejected monoculture to grow corn, beans, and squash the way farmers in Mexico have done for centuries. Through techniques long suppressed by the industrial food system, they steadily stitch ecosystems back together and repair the natural carbon cycle. This is true regenerative agriculture, Carlisle explains – not merely a set of technical tricks for storing CO2 in the ground, but a holistic approach that values diversity in plants and people.
But this kind of regenerative farming doesn't come easily – our nation's agricultural history is marked by discrimination and displacement. Restoration, repair, and healing can only come from dismantling the power structures that have blocked many farmers of color from owning land or building wealth. Though the task is immense, it holds great promise and hope: that by coming together to restore farmlands, we can not only heal our planet, we can heal our communities and ourselves.
Liz Carlisle is an Assistant Professor in the Environmental Studies Program at UC Santa Barbara, where she teaches courses on food and farming. Born and raised in Montana, she got hooked on agriculture while working as an aide to organic farmer and U.S. Senator Jon Tester, which led to a decade of research and writing collaborations with farmers in her home state. She has written three books about regenerative farming and agroecology: Lentil Underground (2015), Grain by Grain (2019, with co-author Bob Quinn), and most recently, Healing Grounds: Climate, Justice, and the Deep Roots of Regenerative Farming (2022). Prior to her career as a writer and academic, she spent several years touring rural America as a country singer.
Latrice Tatsey (In-niisk-ka-mah-kii) is an ecologist and advocate for tribally-directed bison restoration who remains active in her family's cattle ranching operation at Blackfeet Nation in northwest Montana. Her research focuses on organic matter and carbon in soil, and specifically, the benefits to soil from the reintroduction of bison (iin-ni) to their traditional grazing landscapes on the Blackfeet Reservation. Latrice is currently completing her master's degree in Land Resources and Environmental Sciences at Montana State University and she serves as a research fellow with the Piikani Lodge Health Institute and the Wildlife Conservation Society.
Hillel Echo-Hawk (she/her; Pawnee and Athabaskan) is an Indigenous chef, caterer, and speaker born and raised in the interior of Alaska around the Athabaskan village of Mentasta –– home to the matriarchal chief and subsistence rights activist, Katie John. Watching John and other Indigenous Peoples' fight for food sovereignty, as well as seeing her mother strive to make healthy, home-cooked meals for her and her six siblings, gave Hillel a unique perspective on diet and wellness. Echo-Hawk is the owner of Birch Basket, her food and work has been featured in James Beard, Bon Appetit, Eater, Huffpost, National Geographic, PBS, Vogue, The Seattle Times, and many, many more.
---
Presented by Town Hall Seattle and sponsored by PCC Community Markets.