Live Wire Radio and KUOW present
Live Wire Radio with Luke Burbank
With special guests Adam Gopnik, Kelsey McKinney, Brenda Shaughnessy, and more!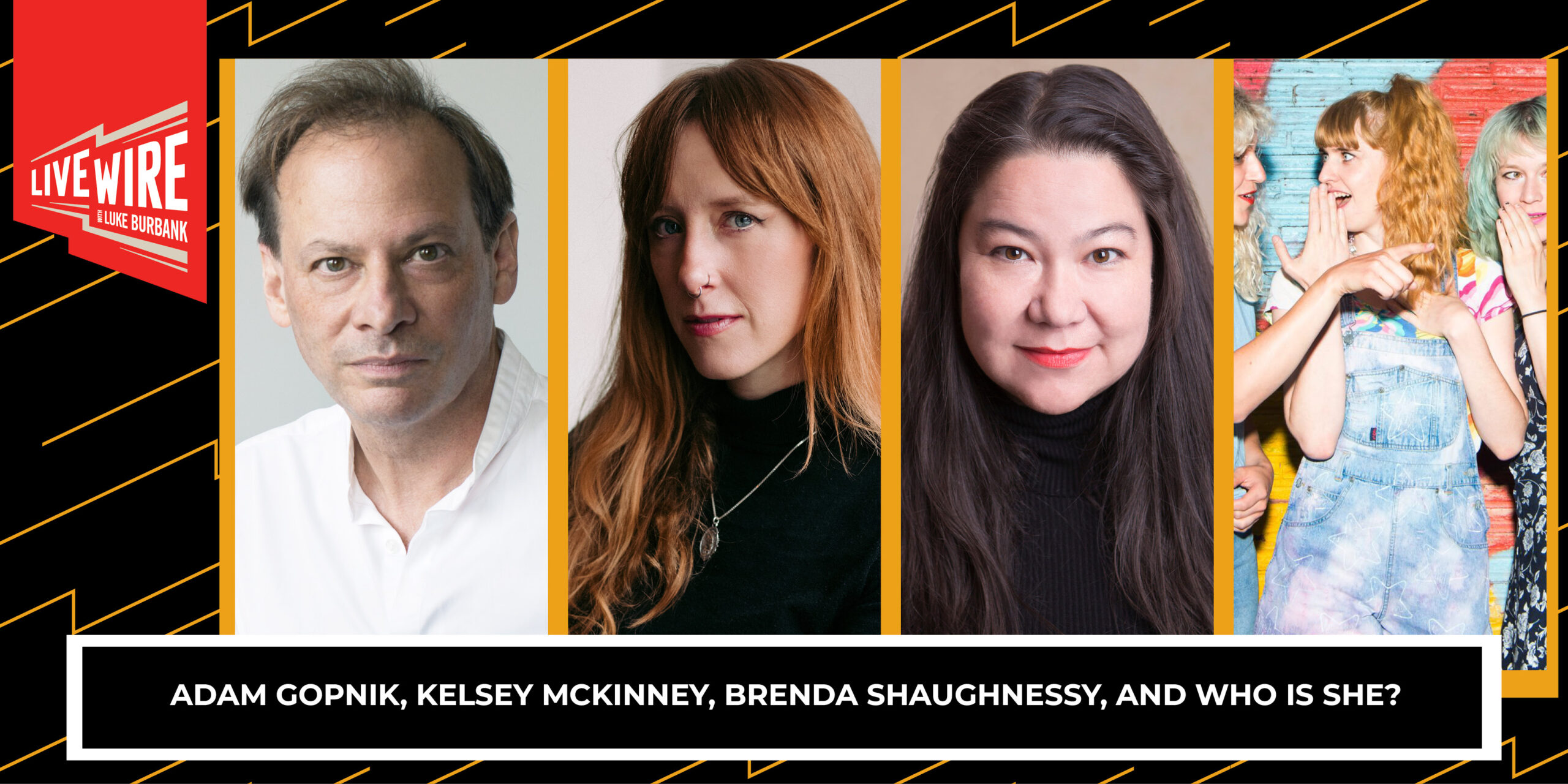 After a SOLD OUT show last November, Live Wire returns to Town Hall Seattle on March 9th! Joining Host Luke Burbank for a night of in-depth interviews and musical performances are best-selling author Adam Gopnik, writer and host of Normal Gossip podcast Kelsey McKinney, award-winning poet Brenda Shaughnessy, and female indie supergroup Who is She!Get to know the guests:Adam Gopnik is a New York Times best-selling author who can do anything — and do it well. He has published over nine books including the #1 national bestseller Paris to the Moon. His latest book, The Real Work: On the Mystery of Mastery explores the fundamental question of "how do we learn—and master—a new skill?" with exquisite, probing prose. Gopnik has been a staff writer for The New Yorker since 1986 while remaining an active lecturer, lyricist, and libretto writer for many musical projects. He has won the National Magazine Award for Essays and for Criticism three times, as well as the George Polk Award for Magazine Reporting, and the Canadian National Magazine Award Gold Medal for arts writing. His work has been anthologized in Best American Essays, Best American Travel Writing, Best American Sports Writing, Best American Food Writing, and Best American Spiritual Writing.Kelsey McKinney is a dynamo staff writer and co-owner of Defector media, an employee-owned sports and culture website. She hosts the popular podcast Normal Gossip, which "delivers juicy, strange, funny, and utterly banal gossip about people you'll never know and never meet" while her first book, God Spare the Girls, a novel packed with religious family secrets and sisterhood, was published to rave reviews. More of her creative work and reporting has been widely published and appears in The New York Times, GQ, Vanity Fair, Vogue, and Cosmopolitan, among many others.
Brenda Shaughnessy is an Okinawa-Irish American poet whose poetic sensibilities are lauded for both their technical and emotional potency. She's the author of seven poetry collections, including The Octopus Museum and Liquid Flesh: New and Selected Poems. Her most recent collection, Tanya, pays tribute to Shaughnessy's literary heritage of women writers and mentors. Recipient of a Literature Award from the American Academy of Arts and Letters, a Guggenheim Foundation Fellowship, and the James Laughlin Award, her poems have appeared in Best American Poetry, The Nation, The New Yorker, Paris Review, and elsewhere. She is also a Professor of English and Creative Writing at Rutgers University-Newark.
Known for writing songs that are both "spunky and violently catchy" (Vice), Who Is She? is a Seattle-based indie supergroup featuring members of Tacocat, Chastity Belt, and Lisa Prank. The talented trio was first started as a song-writing and friendship project based on the missed connection ads when Robin Edwards (Lisa Prank) and Bree McKenna (Tacocat) were living in bedrooms next door to each other at legendary Spruce House. The two Seattle music celebs then enlisted their friend, Julia Shapiro (Chastity Belt), to play the drums. They released their debut record, Seattle Gossip, on Father/Daughter Records and have a new album on the horizon.
---
Presented by Live Wire Radio and KUOW.
If you have questions about the event, please contact Live Wire directly at info@livewireradio.org