Event Format:
In-Person Only
Lane Moore with Angela Garbes and Lindy West
You Will Find Your People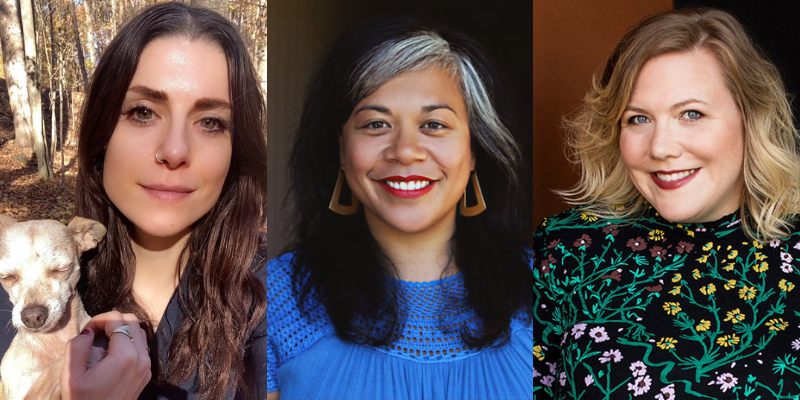 $5 tickets are not available for this event.
Free youth tickets are available in a limited quantity.
This event is part of our 2023 Gala: Pass the Mic and Celebrating Town Hall. $25 of each ticket benefits Town Hall Seattle.
($25 – $50)
Saturday, April 1, 2023, 8:30PM
The Great Hall
1119 Eighth Avenue (enter on Eighth Avenue)
Seattle, WA 98101
Movies, books, and TV shows tell us we should've already found our people — those close, always dependable, tried-and-true forever friends — by the time we're adults (and if we haven't, there must be something wrong with us). But it's often easier said than done. Where do you find close friends beyond childhood or school? Is it even possible?
Like many people navigating adulthood, Lane Moore thought she would have friends by now. Sure, Moore has plenty of casual acquaintances and people she likes hanging out with, but she wanted to find her people — the ones she lists as her emergency contact, the ones she calls when something funny or horrible happens, the ones who bring over soup over when she's sick as she would do for them — her chosen family.
You Will Find Your People is the groundbreaking guide to making and keeping the friends we've all been desperately waiting for. In this follow-up to her best-selling book How to Be Alone, Moore shows us how to make real friends as an adult, cope with friend breakups, navigate friendships with coworkers, roommates, and family members, and provides real tools on how to create healthy boundaries with friends to deepen your bonds. Through hilarious personal anecdotes and hard-won wisdom, Moore teaches us how to finally work through our fears and past hurts, to bravely cultivate and maintain the lifelong friendships we deserve.
Lane Moore is an award-winning stand-up comedian, actor, author, and musician. Moore is the creator of the hit comedy show Tinder Live, and the bestselling author of How To Be Alone and the forthcoming You Will Find Your People. Moore's writing has appeared everywhere from The New Yorker to The Onion, and she is the former sex and relationships editor at Cosmopolitan, where she received a GLAAD Award for her groundbreaking work expanding the magazine's queer coverage. Moore is the frontperson in the band It Was Romance and lives in Brooklyn with her dog-child, Lights.
Angela Garbes is the author of Like a Mother: A Feminist Journey Through the Science and Culture of Pregnancy. It was an NPR Best Book of 2018 as well as a finalist for the Washington State Book Award for Nonfiction. Her work has appeared in The New York Times, New York, The Cut, Bon Appetit, and has been featured on NPR's Fresh Air. She also cohosts The Double Shift, an acclaimed narrative storytelling podcast that questions the status quo of motherhood in America. Angela lives with her family right here in Seattle in the Beacon Hill neighborhood.
Lindy West is a former contributing opinion writer for The New York Times, and is the author of Shit, Actually, the New York Times bestselling memoir Shrill, and the essay collection The Witches Are Coming. Her work has also appeared in This American Life, The Guardian, Cosmopolitan, GQ, Vulture, Jezebel, and others. She is the co-founder of the reproductive rights destigmatization campaign #ShoutYourAbortion. Lindy is a writer and executive producer on Shrill, the Hulu comedy adapted from her memoir. She co-wrote and produced the independent feature film Thin Skin.
---
Our 2023 Gala culminates in a special event benefiting Town Hall Seattle, and this year calls for an extra special celebration as we pass the mic to our new Executive Director and enjoy being back in our beautiful building together, in person.
Town Hall invites you to join us for an evening of laughter and connection with author Lane Moore, who discusses her new book You Will Find Your People with Angela Garbes and Lindy West. We're so grateful for you — our people — and we can't wait to celebrate together in The Great Hall.
Benefit doors will open at 7pm, and we'll celebrate the night with a raffle to win Alaska Airline vouchers, a special Third Place pop-up bookstore featuring titles from the 2022-23 Town Hall season, games, mingling, and specialty cocktails. Plus, benefit ticket holders will receive 10% off at Hotel Sorrento for dinner and cocktails before joining us in the building! (Just show staff your tickets on your phone or printout.)
Click here to learn more about the Gala.
---
Presented by Town Hall Seattle.
$5 tickets are not available for this event. Free youth tickets are available in a limited quantity. This event is part of our 2023 Gala: Pass the Mic and Celebrating Town Hall. $25 of each ticket benefits Town Hall Seattle.