This event has already occurred, check out our calendar for upcoming events
Kevin Hand with Steve Scher (Podcast)
The Search for Life in Alien Oceans
In light of the stay-at-home order, Town Hall is presenting digital-first programming such as this podcast—plus livestreams, curated archive selections, and more!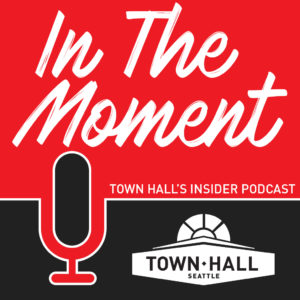 The
In The Moment podcast
offers a slice of Town Hall culture and puts you in the room for exclusive behind-the-scenes conversations. Listen in as a rotating cast of prominent local voices, along with Chief Correspondent Steve Scher, sit down with Town Hall speakers for an insider perspective you won't find anywhere else.
In this week's interview, In the Moment Chief Correspondent Steve Scher talks with Kevin Hand—one of today's leading NASA scientists—about the modern scientific quest to delve beneath the surface of the ice-covered moons of Jupiter and Saturn and search for life in vast oceans that may be as old as the Earth itself. Hand reveals the latest in planetary science, biology, and the adventures of scientists like himself to explain how we know that oceans exist on moons like Europa, Titan, and Enceladus. He shows how the exploration of Earth's oceans is informing our understanding of the potential habitability of these icy moons, and draws lessons from what we have learned about the origins of life on our own planet to consider how life could arise on these distant worlds. Get an insider's look and stay in the know about what's going on in this moment at Town Hall Seattle.
Kevin Hand is a scientist at NASA's Jet Propulsion Laboratory, where he has served as deputy chief scientist for solar system exploration and is leading an effort to land a spacecraft on the surface of Europa. He has helped lead expeditions to the glaciers of Kilimanjaro, the Dry Valleys of Antarctica, and the sea ice of the North Pole.
Steve Scher is a podcaster, broadcaster, writer, interviewer, and teacher. He is the former host of KUOW-FM's "Weekday" and has taught interviewing at the University of Washington since 2009.
---
Presented by Town Hall Seattle.