Kenji Yoshino and David Glasgow with Jane Park
Say the Right Thing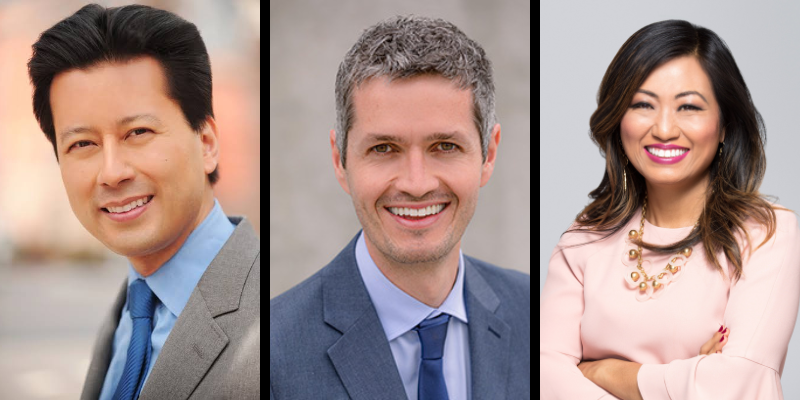 Do you ever wish you had a manual for what to say in certain situations? Cultural Awareness powerhouses Kenji Yoshino and David Glasgow's Say the Right Thing: How to Talk About Identity, Diversity, and Justice describes itself as "a practical, shame-free guide for navigating conversations across our differences at a time of rapid social change."
While we navigate a significant time of divisiveness and unrest, conversations about identity are becoming more frequent, but also arguably more complex. When discussing subjects such as critical race theory, gender equity in the workplace, and LGBTQ-inclusive classrooms, many of us with good intentions may find ourselves fearful of saying the wrong thing and hurting someone or being misunderstood. That fear can sometimes prevent us from speaking up at all, which can have the detrimental effect of stalling progress toward a more just and inclusive society.
As founders of the Meltzer Center for Diversity, Inclusion, and Belonging at NYU School of Law, Yoshino and Glasgow share a goal of showing potential allies that these conversations don't have to be so overwhelming. Through stories drawn from social media posts, dinner party conversations, and workplace disputes, they offer seven user-friendly principles that are supported by research and teach skills like avoiding common conversational pitfalls, engaging in respectful disagreement, offering authentic apologies, and better supporting the people in our lives who experience bias.
Say the Right Thing seeks to encourage us away from cancel culture and shame toward more meaningful and empathetic dialogue on issues of identity on both large and small scales. Whether managing diverse teams at work, navigating issues of inclusion at college, or challenging biased comments at a family barbecue, Yoshino and Glasgow may help us move from unconsciously hurting people to consciously helping them.
Kenji Yoshino is the Chief Justice Earl Warren Professor of Constitutional Law at NYU School of Law and the director of the Meltzer Center for Diversity, Inclusion, and Belonging. A graduate of Harvard (AB summa cum laude), Oxford (MSc as a Rhodes Scholar), and Yale (JD), he specializes in constitutional law, antidiscrimination law, and law and literature. Yoshino taught at Yale Law School from 1998 to 2008, where he served as Deputy Dean and the inaugural Guido Calabresi Professor of Law. He is the author of three books: Covering: The Hidden Assault on Our Civil Rights; A Thousand Times More Fair: What Shakespeare's Plays Teach Us About Justice; and Speak Now: Marriage Equality on Trial. Yoshino has published in major academic journals, including the Harvard Law Review, the Stanford Law Review, and the Yale Law Journal, and has written for the Los Angeles Times, the New York Times, and the Washington Post. He makes regular appearances on radio and television programs, such as NPR, CNN, PBS and MSNBC. He has won numerous awards for his scholarship and teaching, including the American Bar Association's Silver Gavel Award in 2016 and the Podell Distinguished Teaching Award in 2014.
David Glasgow is the executive director of the Meltzer Center for Diversity, Inclusion, and Belonging and an adjunct professor of law at NYU School of Law. In his role at the Meltzer Center, he develops and executes educational programs on diversity and inclusion for internal and external clients, coordinates a speaker series and other events on contemporary diversity and inclusion issues, and manages the center's general operations. He has co-taught courses at the Law School on leadership, diversity, and inclusion, and co-authored a book with Kenji Yoshino, Say the Right Thing: How to Talk about Identity, Diversity, and Justice. David graduated with a BA in philosophy and an LLB (First Class Honors) from the University of Melbourne, and a Master of Laws (LLM) from NYU School of Law, where he received the David H. Moses Memorial Prize and the George Colin Award. Prior to joining the Meltzer Center, he practiced employee relations and anti-discrimination law in Melbourne, Australia, and then served as an Associate Director of the Public Interest Law Center at NYU School of Law.
Jane Park is the CEO of Athena Consumer, an all women founded Special Purpose Acquisition Company, as well as CEO and Founder of Tokki, a social & sustainable giftwrap company. Prior to founding Tokki, Ms. Park was the CEO and Founder of Julep, an on-line first beauty brand now distributed nationally at Ulta stores as well as on QVC and Nordstrom. Ms. Park was also an executive at Starbucks in the New Ventures division where she launched new consumer businesses. She was also a leader at the Boston Consulting Group in the Retail and Consumer Goods practice group, and a founding director of the CEO Forum for Education and Technology with luminaires such as Steve Jobs (CEO Apple) and Eckhard Pfeiffer (CEO Compaq).
Ms. Park serves on the Board of Directors of Athena Consumer, Glo Beauty, and the Washington State Opportunity Scholarship, and regularly appears on television as well as consumer, technology, and women's leadership conferences.  She is a graduate of the Princeton School of Public Policy and International Affairs and Yale Law School.
---
Presented by Town Hall Seattle. This event is sponsored by The Boeing Company.