Seattle CityClub and Crosscut present
Civic Cocktail: Keep Art Alive
The Essential Role of Creative Culture in Seattle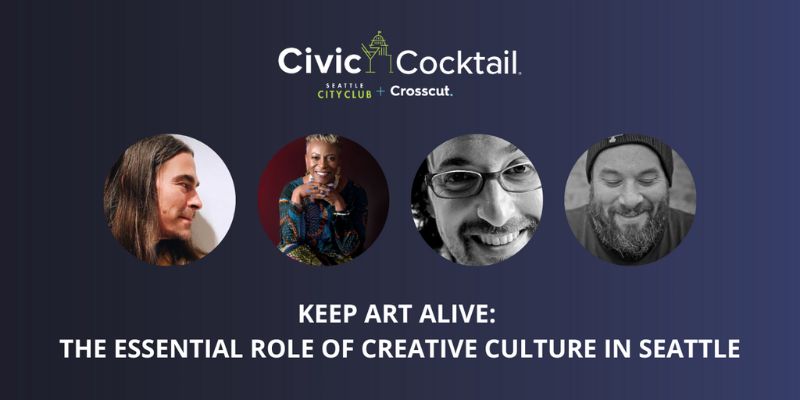 Art and creativity are essential to the fabric of any community. After two years of pandemic-related closures and unpredictable in-person participation at theaters, museums, galleries, music venues and small businesses all over the state, we must ask ourselves; what's next? What have we realized about the essential role that the arts play in our culture, as a community resource, and in our future? How do we sustain our creative character? How can we unite to keep our favorite artists, organizations, and talent thriving in our community?
Longtime Seattle community arts leaders Vivian Philips (Founder of Arte Noir), Greg Lundgren (Director of Museum of Museums), Adam Zacks (Chief Programming Officer, Seattle Theatre Group, Founder of THING) and Kevin Sur, (Founder of Artist Home) will discuss these critical questions in the next Civic Cocktail with moderator Mark Baumgarten, Managing Editor at Crosscut.
Panelists
Segment 1 – Arts
• Vivian Philips, Co-host doubleXposure podcast, Editor in-chief of Arte Noir magazine
• Greg Lundgren, Founder of Museum of Museums, Co-producer of New Rising Sun
Segment 2 – Music industry and festivals
• Adam Zacks, Chief Programming Officer, Seattle Theatre Group; Founder of Sasquatch Festival and THING
• Kevin Sur, former touring musician, music industry professional and the founder of Artist Home
Moderated by Mark Baumgarten, Managing Editor, Crosscut
---
About Seattle CityClub
Seattle CityClub is a 40-year-old nonpartisan, civics-focused nonprofit, providing a platform for insightful and educational conversations that include a diverse range of perspectives.
About Crosscut
Crosscut.com is a nonprofit, publicly supported newsroom. It is part of Cascade Public Media, which also owns and operates KCTS 9, Seattle's PBS station. Cascade Public Media serves the Pacific Northwest and its mission is to inspire a smarter world by committing to exceptional public television programming and local public interest journalism.
---
Presented by Seattle CityClub and Crosscut.