Town Hall Seattle and UW Engage Science present
Kaylin Ellioff, Samantha Borje, & Sonya Jampel
UW Engage Science 2023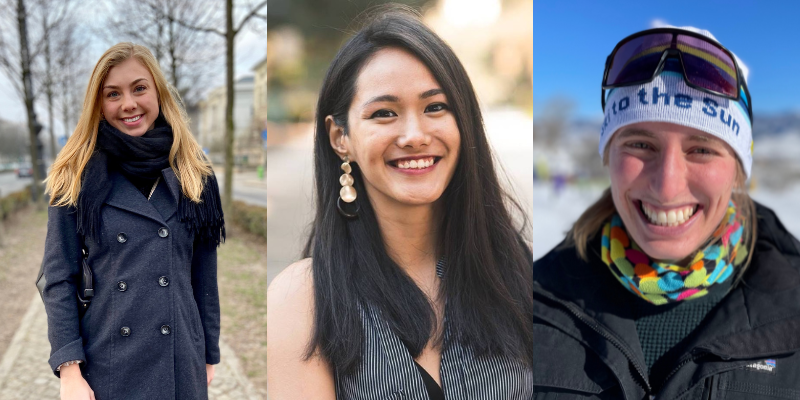 UW Engage Science sees a future where every graduate student has access to science communication training, and therefore good science communication becomes the norm. The outcome is an increased public trust and positive attitude toward science, ultimately strengthening the connection between the public and scientists. Join us for a look at the forefront of research in our region and meet the students who are leading the latest wave of scientific discovery.
---
Kaylin Ellioff: Understanding the makeup of marijuana to better treat chronic pain
Chronic pain affects 1 in 5 people in the US and currently opioids are the main treatment for severe cases. There is potential for individuals to become tolerant to opioids as well as misuse them. Therefore, alternative treatments are desperately needed. In Kaylin Ellioff's research, she is working to understand if and how different chemical components found in Cannabis, otherwise known as marijuana, can be used to treat chronic pain. Cannabis has been used for centuries to treat pain, and by better understanding how each of the chemicals work in our body, new pain treatments can be developed so that patients do not have to rely on daily doses of opioids or get high to experience pain relief.
Kaylin Ellioff is a Pharmacology graduate student at the University of Washington, where she studies different chemicals found in cannabis and how they can be used to treat chronic pain.
Samantha Borje: Using designer DNA to detect diseases
When it comes to forming connections, molecules generally look for the same things that many people do: a sense of stability and a certain degree of freedom. Whether a molecule can provide these for another molecule is often a complicated question because most molecules consist of many parts. DNA, the central molecule of life, is remarkably simple in that it consists of only four parts: A, C, G, and T. The combination of these parts in a piece of DNA determines exactly whether, how quickly, and in what settings it can connect with another piece of DNA. We can take advantage of this predictability to design and carry out super-specific chain reactions made entirely of DNA pieces, in a process known as DNA computing.
Samantha Borje is a Molecular Engineering graduate student at the University of Washington, where she works at the Seelig Lab and Molecular Information Systems Lab. Her research focuses on designing massive networks of DNA pieces. She aims to use these networks as diagnostic platforms, where the DNA pieces would set off different chain reactions depending on whether or not a medical sample contains markers for disease.
Sonya Jampel: Public health prevention of air pollution exposure
Fine particulate matter – a primary contributor to air pollution – is so small that over twenty particles can fit across one human hair. When fine particulate matter is suspended in the atmosphere, it can penetrate deep into your lungs and bloodstream. These small, suspended particles including dust, dirt, or soot can lead to harmful health impacts such as heart attacks, stroke, respiratory illness, and death. In January, the Environmental Protection Agency (EPA) proposed lowering standards to protect human health. Come learn about how science and policy work together to improve health!
Sonya Jampel (she/her) is a Master's in Public Health Student in Epidemiology at the University of Washington. She uses large birth and death certificate datasets to analyze the relationship between air pollution and infant mortality in order to inform policy and prevention solutions.
---
Presented by Town Hall Seattle and UW Engage Science.