In The Moment Podcast, Ep. 127
Kathy Gilsinan with Steve Scher
Stories from the Front Lines of the Pandemic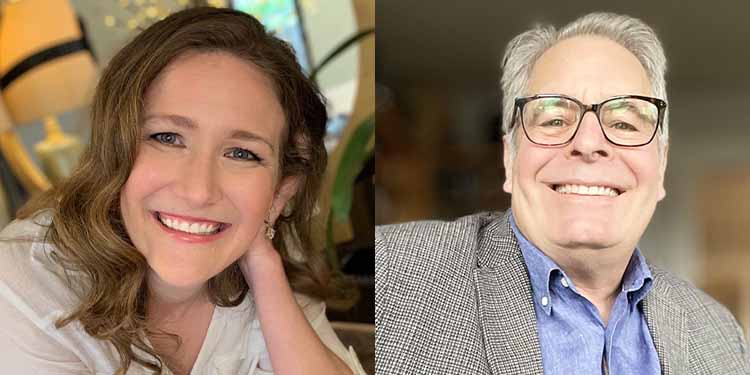 Most Americans can pinpoint the moment, back in March of 2020, when COVID-19 changed everything in the United States. Lockdown measures reshaped the daily lives of millions. Work changed. School changed. The experiences of going to the grocery store, doctor's office, or meeting up with friends changed. And let's be honest, two years into the pandemic, our lives are still changing as we grapple with variants, shifting guidelines, and the continued loss of loved ones. It has been a long season of hardship, but amidst the heartache are glimmers of hope fueled by human kindness and collaboration.
Journalist Kathy Gilsinan brings such stories to light in her book, The Helpers. She profiles eight individuals on the front lines of the coronavirus battle: a devoted son caring for his family in the San Francisco Bay Area; a not-quite-retired paramedic from Colorado; an ICU nurse in the Bronx; the CEO of a Seattle-based ventilator company; a vaccine researcher at Moderna in Boston; a young chef and culinary teacher in Louisville, Kentucky; a physician in Chicago; and a funeral home director in Seattle and Los Angeles.
In the 127th Episode of Town Hall's In the Moment podcast, Steve Scher interviews Gilsinan about the people across the country — and the socioeconomic spectrum — who took action to help others in the face of the pandemic.
Kathy Gilsinan is a contributing writer at the Atlantic, where she has reported on national security and contributed to its extensive and acclaimed coronavirus coverage. She lives in St. Louis, Missouri.
Steve Scher is a podcaster and interviewer and has been a teacher at the University of Washington since 2009. He worked in Seattle public radio for almost 30 years and is Senior Correspondent for Town Hall Seattle's In The Moment podcast.