Katherine Reynolds Lewis with Patranya Bhoolsuwan
The Good News About Bad Behavior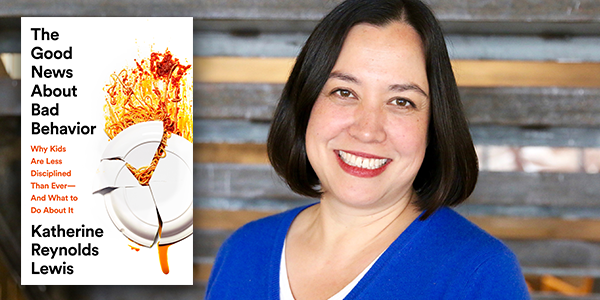 Why don't our kids do what we want them to do? In our modern highly-connected age it sometimes seems as though children have less self-control than ever. To offer us some behavioral insight, journalist and parenting expert Katherine Reynolds Lewis joins us with revelations from her book The Good News About Bad Behavior. She meets for a conversation with KIRO 7 News reporter Patranya Bhoolsuwan to explore the ways we can instill the values of independence, responsibility, and self-regulation in our kids without falling into old (and, she says, fallible) patterns of punishment and reward.
Lewis and Bhoolsuwan discuss the Apprenticeship Model—Lewis' new theory of discipline that centers on the art of self-control. Blending new scientific research and powerful individual stories of change, Lewis asserts that if we trust our children to face consequences they will learn to adapt and moderate their own behavior. Lewis and Bhoolsuwan explore the successful accounts of this model—chaotic homes becoming peaceful, bewildered teachers seeing progress, and Lewis' own family growing and evolving in light of these new ideas. Join Lewis and Bhoolsuwan for a journey down the path to developing more capable and kind behaviors for everyone in your home, including yourself.
Katherine Reynolds Lewis is an award-winning independent journalist based in the Washington D.C. area whose work has appeared in The Atlantic, Bloomberg Businessweek, Fortune, The New York Times, Parade, Slate, The Washington Post and Working Mother. Her 2015 story for Mother Jones magazine about school discipline was the site's most-viewed piece. Before going solo in 2008, she worked as a national correspondent for Newhouse News Service writing about money, work and family, and as a national reporter for Bloomberg News covering everything from orange crop reports and media policy to presidential campaigns.
Patranya Bhoolsuwan is an Emmy award-winning reporter for Seattle's KIRO 7 news, and former reporter and weekend anchor at KLAS-TV, the CBS affiliate in Las Vegas. It was there where she won the title of "Best Reporter" by the Nevada Association of Broadcasters. She has also worked as an anchor and reporter in Redding, Reno, and Washington DC, as well as working as a writer/producer for KRON-TV in San Francisco.
Presented by Town Hall Seattle as part of the Arts & Culture series.