Event Format:
In-Person and Livestream
North Corner Chamber Orchestra presents
Jubilance
NOCCO's Season Finale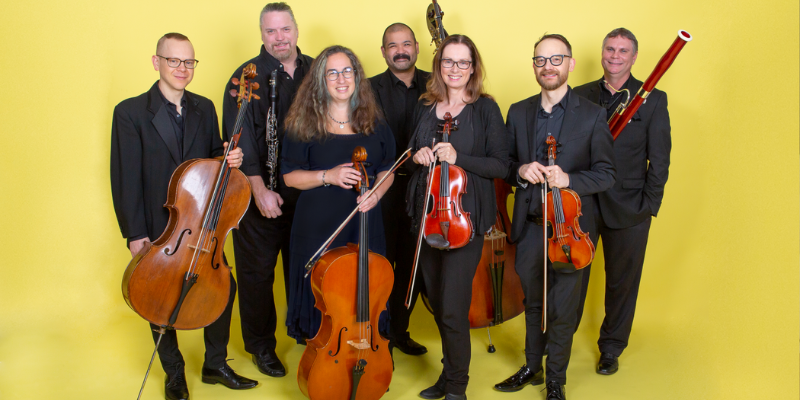 ($25 – $35)
Sunday, April 30, 2023, 7:30PM
The Wyncote NW Forum
1119 8th Ave (Entrance off Seneca St.)
Seattle, Washington 98101
A livestream of this performance is also available
North Corner Chamber Orchestra's season finale kicks off with contemporary American composer, Caroline Shaw's Entr'acte. This piece, inspired by the Menuet of Haydn's Op. 77, No. 2 String Quartet takes the listener "to the other side of Alice's looking glass, in a kind of absurd, subtle, technicolor transition". Following is Franz Krommer's playful Concerto No. 2 for Two Clarinets, Op. 91 performed by NOCCO clarinetists, Sean Osborn and Florie Rothenberg. The program concludes with Mendelssohn's ebullient Symphony No. 4, commonly known as the Italian. Travel through Venice, Bologna, Florence, and Rome with the symphony described as "blue sky in A major" by Mendelssohn himself.
About North Corner Chamber Orchestra (NOCCO)
NOCCO's mission is to present immersive, collaborative, and vibrant musical experiences to the diverse communities of the greater Seattle area. They believe that for too long, classical music has been confined by rigid rules and structures. NOCCO removes those barriers, connecting musicians and audiences through unconducted performances in intimate settings. They put collaboration at the heart of their music-making, resulting in vibrant, high-energy performances that are bursting with enthusiasm. Through fun and casual venues, diverse programming, and accommodating ticket pricing, NOCCO seeks to build a concert-going community that includes those new to, or even historically alienated from, orchestral music.
---
Presented by North Corner Chamber Orchestra.