Town Hall Seattle, Stroum Jewish Community Center, and The Jewish Book Council present
Jonathan Weisman
(((Semitism))): Being Jewish in the Age of Trump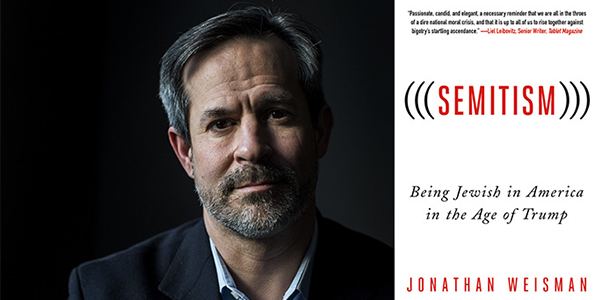 Based on personal experience after being attacked on Twitter by a wave of neo-Nazis and anti-Semites, New York Times editor and journalist Jonathan Weisman examines how the Jewish American experience has changed, especially under President Trump. Stroum Jewish Community Center, The Jewish Book Council, and Town Hall Seattle are proud to bring him to the stage to share insight from his book (((Semitism))): Being Jewish in the Age of Trump. Weisman explores the disconnect between his own sense of Jewish identity and the expectations of his detractors and supporters. He delves into the rise of the Alt Right, revealing their roots in older anti-Semitic organizations and the odd ancientness of their grievances. Join Weisman for a contemplation of the state of anti-Semitism today, and a proposal for how society can move forward to fight this threat and defend those even more vulnerable.
Jonathan Weisman is the Deputy Washington Editor of The New York Times. He has reported for The Baltimore Sun, The Washington Post, USA Today, and The Wall Street Journal.
Town Hall Members: Contact membership@townhallseattle.org for a discount code for this event.
---
Presented by Town Hall Seattle, Stroum Jewish Community Center, and The Jewish Book Council.