Town Hall Seattle and Westside School present
Jonathan Kauffman
How Hippie Foods Changed the Way We Eat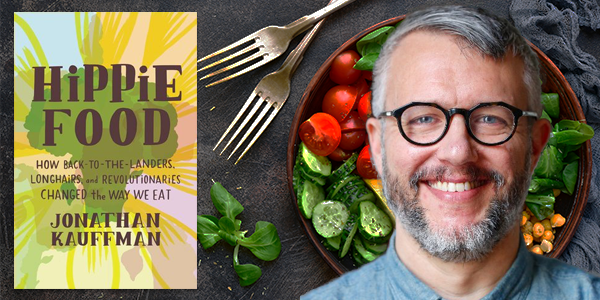 Many consider sprouts, tofu, yogurt, brown rice, and whole-grain bread to be health-food standbys, but how did these foods gain their reputation as such ubiquitous healthy choices? In his book Hippie Food: How Back-to-the-Landers, Longhairs, and Revolutionaries Changed the Way We Eat, food writer Jonathan Kauffman traces the colorful origins of once unconventional foods—and the diverse fringe movements, charismatic gurus, and counterculture elements that brought them to the mainstream. He returns us to the 1960s and 70s to tell the story of how a coterie of unusual men and women embraced an alternative lifestyle that would ultimately change how modern Americans eat. Joining Kauffman as an interlocutor is Seattle-based James Beard Award winning food writer Rebekah Denn.
Kauffman and Denn delve into more than half a century of food history, from the mystical rock-and-roll cult known as the Source Family and its legendary vegetarian restaurant in Hollywood, to the Diggers' brown bread in the Summer of Love, to the rise of the co-op and the origins of the organic food craze. Kauffman reveals how today's quotidian whole-foods staples were introduced and eventually became part of our diets. Join Kauffman and Denn for a comprehensive history of hippie food's journey from niche oddity to an honored staple of health-focused cuisine across the country.
Jonathan Kauffman is a line cook turned journalist, and an International Association of Culinary Professionals and James Beard Award–winning staff writer at the San Francisco Chronicle. He served as the restaurant critic at the East Bay Express, Seattle Weekly, and SF Weekly for more than a decade, and has contributed regularly to San Francisco magazine, Lucky Peach, and Wine & Spirits. His articles have also been anthologized in several editions of Best Food Writing.
Rebekah Denn is a Seattle-based two-time James Beard Award winning food writer. Her work has appeared in publications such as The Seattle Times, Seattle Magazine, and Seattle Business Magazine, and has been a guest on KIRO and KUOW discussing food-related topics on the locally produced NPR programs The Record, Weekday, KUOW Presents, and Sound Focus. In 2014 she curated "Edible City," a comprehensive 5,000-square-foot exhibit on Seattle and food at the Museum of History and Industry.
 Presented by Town Hall Seattle and Westside School as part of the
Arts & Culture
series.