Johanna Garton with Mark Gunlogson (livestream)
The Mountain Life of Christine Boskoff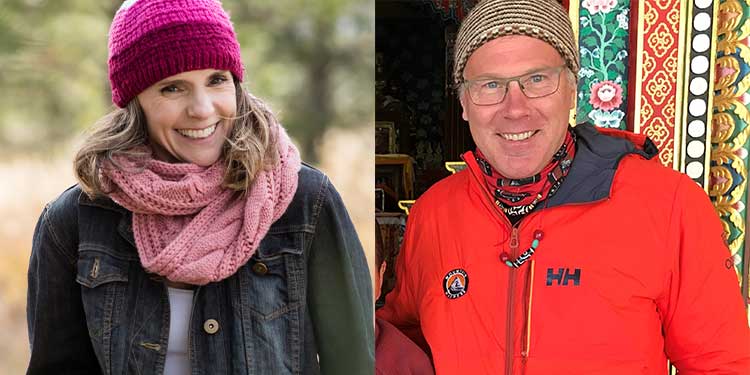 How did a girl from a small Midwestern town become one of the world's top female alpinists, a record holder for the most 8000-meter peaks climbed by an American woman? Christine Boskoff was at the top of her career when she and her partner died in an avalanche in 2006. Author Johanna Garton joins us to share why she was drawn to telling Boskoff's story.
In this livestreamed conversation, Garton talks about her book Edge of the Map: The Mountain Life of Christine Boskoff, which traces the sharp twists and turns in Boskoff's life. Joined in conversation by climber Mark Gunlogson, Garton takes us from Boskoff's early years as a Lockheed engineer, through her first successes in the climbing world, to her purchase of Seattle-based Mountain Madness after owner and climber Scott Fischer died in the 1996 Everest disaster. They discuss how Christine was a deeply loved role model and how her life was one of constant achievement mixed with personal tragedy. Join us for a true tale that is equal parts inspiring, dramatic, and heartbreaking.
Johanna Garton is a mother, author, and cross country coach. As an AmeriCorps VISTA member in Chicago, Garton worked on behalf of refugee survivors of torture at the Heartland Alliance. She has served on the Colorado Governor's Commission on Community Service and taught advocacy and legal issues for nonprofits at Regis University. Several years of living and working in Asia inspired her to write her first book, Awakening East.
Mark Gunlogson's climbing career spans more than forty years across the globe, more than thirty of which include working in the guiding industry. Also, included in this time is 26 years at Mountain Madness, where he worked alongside Scott Fischer, and 10 years with Christine Boskoff.
---
Presented by Town Hall Seattle.