Event Format:
In-Person & Livestream
Seattle Arts & Lectures presents
James Spooner
High Desert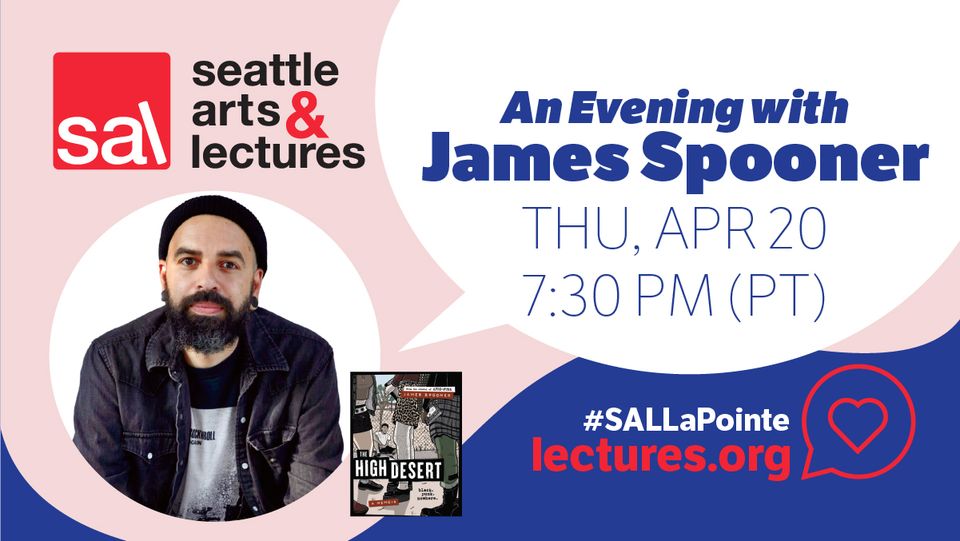 ($10 – $100)
Thursday, April 20, 2023, 7:30PM
The Wyncote NW Forum
1119 8th Ave (Entrance off Seneca St.)
Seattle, Washington 98101
A livestream of this event will also be available.
A graphic novelist, tattoo artist, illustrator, and filmmaker, James Spooner directed the seminal documentary AFRO-PUNK. His graphic novel, The High Desert, weaves in the Black roots of punk rock and a vivid interlude in the thriving eighties DIY and punk scene in NYC's East Village. He co-founded the Afropunk Festival, which currently boasts audiences in the hundreds of thousands globally.
Spooner's work has been recounted in various publications, including NPR, Vice Magazine, The Village Voice, The New Yorker, Vibe, Fader Magazine, MTV, NBC News, and Variety, and he was a recipient of the ReNew Media Rockefeller Grant. He is an ongoing guest curator for the Broad Museum in Los Angeles and previously programmed for the Brooklyn Academy of Music.
Spooner is also a contributor to RazorCake Magazine, and he continues to screen AFRO-PUNK at colleges around the country, giving talks on punk and Black identity. He is currently co-editing an anthology from Soft Skull Press entitled, Black Punk Now.
About Seattle Arts & Lectures
Seattle Arts & Lectures (SAL) cultivates transformative experiences through story and language with readers and writers of all generations. Learn more about SAL programs here.
---
Presented by Seattle Arts & Lectures.
For questions about this event, please contact grajendran@lectures.org or call (206) 621-2230.