James and Deborah Fallows with Rajiv Chandrasekaran
Our Towns: A 100,000-Mile Journey into the Heart of America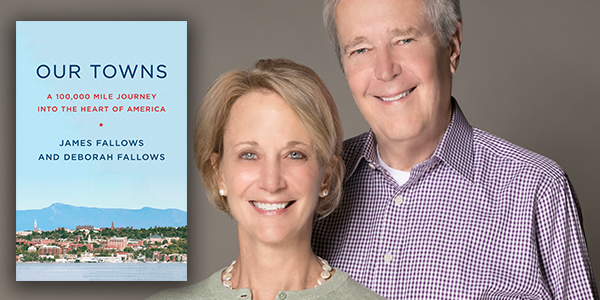 For the last five years, James and Deborah Fallows have been traveling across America in a single-engine prop airplane—visiting smaller and medium-sized cities and meeting civic leaders, factory workers, recent immigrants, and young entrepreneurs. To share their hopeful view of the country between its coasts, the Fallows take our stage in conversation with Washington Post senior correspondent Rajiv Chandrasekaran. The Fallows open the pages of the written record of their journey, Our Towns: A 100,000-Mile Journey into the Heart of America, revealing wisdom learned after taking the pulse and understanding the prospects of places that usually draw notice only after a disaster or during a political campaign. They paint a unique, revelatory portrait of the civic and economic renewal already taking place across America, town by town and generally out of view of the national media. Join the Fallows for their conversation with Chandrasekaran, and an account of a country busy remaking itself despite the challenges and paralysis of national politics.
James Fallows is a national correspondent for The Atlantic. He has written for the magazine on a wide range of topics for over 25 years, including national security policy, American politics, the development and impact of technology, economic trends and patterns, and U.S. relations with the Middle East, Asia, and other parts of the world. He is a former editor at U.S. News & World Reports, and formerly served as President Jimmy Carter's chief speechwriter.
Deborah Fallows is a contributing writer for The Atlantic and The New York Times, as well as the author of Dreaming in Chinese: Mandarin Lessons in Life, Love, and Language. She most recently worked in research and polling for the Pew Internet Project and in data architecture for Oxygen Media. Fallows is a Harvard graduate with a PhD in Linguistics.
Rajiv Chandrasekaran serves for two decades as a senior correspondent and associate editor of The Washington Post. During his newspaper career, he reported from more than three dozen countries and was bureau chief in Baghdad, Cairo, and Southeast Asia. In 2014, he co-wrote (with Howard Schultz) the bestselling book For Love of Country: What Our Veterans Can Teach Us About Citizenship, Heroism and Sacrifice.