Town Hall Seattle & Seattle University Institute of Public Service present
Is Seattle Becoming Ungovernable? (livestream)
With Joni Balter, Dr. Larry Hubbell, Debora Juarez, and Bruce Harrell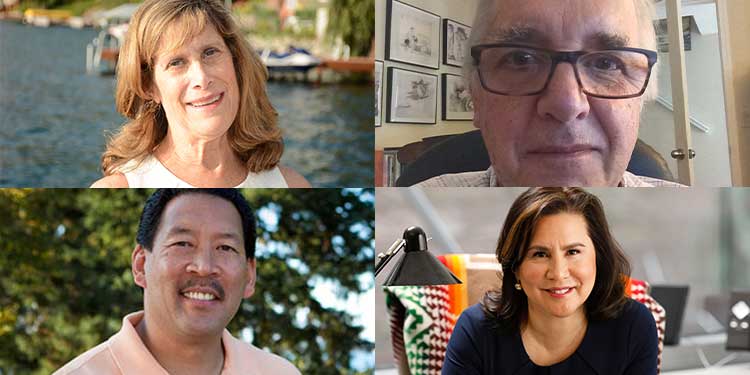 Citizens in cities across the United States are rising up in protest, and societal struggles that were already challenging to solve have been exacerbated by the events of this year. Seattle especially has experienced significant unrest, with recall petitions, souring mayor-council relations, calls to defund police, protests at councilmembers' houses, and the US attorney general calls Seattle an "anarchist" city. All of this begs the question: is Seattle becoming ungovernable?
In this livestream conversation presented by Seattle University Institute of Public Service and Town Hall Seattle, respected journalist Joni Balter and professor Dr. Larry Hubbell engage in a discussion with local experts to consider this question. Seattle City Councilmember Debora Juarez and former Seattle City Council President — and mayor for five days — Bruce Harrell join Balter and Hubbell to examine the impact of the recent past, particularly the last six months, on Seattle and local government—and to consider a way forward as a city.
Joni Balter is a multi-media journalist and lecturer. She hosts Civic Cocktail, sponsored by Seattle CityClub and the Seattle Channel. She is a regular on NPR affiliate KUOW's "Week in Review," and provides political analysis Friday mornings on KUOW. She also contributes to Bloomberg Opinion. Balter is professional-in-residence at the Institute of Public Service at Seattle University and teaches at the University of Washington's Evan Graduate School of Public Policy and Governance.
Dr. Larry Hubbell is a professor and former director of the Institute of Public Service at Seattle University. Prior to his tenure at Seattle University, Hubbell was a professor at the University of Wyoming. In addition to his career, he worked for ten years in the federal government at the US Environmental Protection Agency.
Debora Juarez, an enrolled member of the Blackfeet Nation, made history when she was elected to the Seattle City Council's District 5 seat in 2015 and again with her reelection in 2019. Councilmember Juarez became the first citizen of an Indigenous nation to be elected to the Council in the City's 150-year history. Juarez went to law school at the University of Puget Sound and built a 31-year career as a public defender, legal-aid lawyer, a King County judge, a Native American affairs advisor for two governors, and counsel for Northwest tribes.
Bruce Harrell graduated from UW's law school and has served in a variety of leadership roles, representing kids and seniors, union members, non-profits, affordable housing companies and working as a senior attorney for technology and telecommunication companies. In 2007, Bruce was elected to the City Council emerging from a field of five candidates who ran for the open seat vacated by Councilmember Peter Steinbrueck. In 2011 and 2015, Councilmember Harrell was re-elected by the great people of Seattle.
---
Presented by Town Hall Seattle & Seattle University Institute of Public Service.