Ignite Seattle presents
Ignite #42
Enlighten Us, But Make It Quick!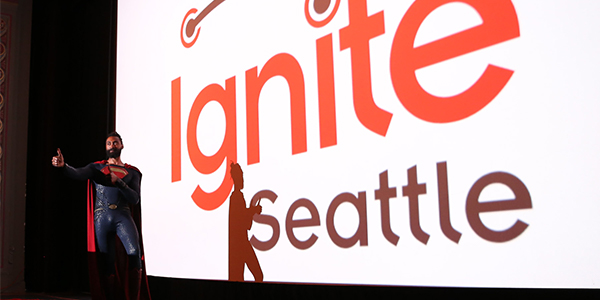 Ignite Seattle is the largest open submission public speaking event in the Pacific Northwest. Several times a year, one of the greatest audiences in the world gathers to hear interesting people tell interesting stories. Each speaker gets 20 slides, for 15 seconds each, to share a passion for 5 minutes – it's an evening of curated discovery.
Ignite Seattle takes pride in providing every audience with a deep sense of the community and possibility that surrounds us in Seattle in every moment.
Speaker lineup (in no particular order):
Someone Finally Showed Me How to Walk by Doug Thomas
Get Paid to Travel the US Full-Time in an RV by Silvana Clark
The G-Word: The Fight for Roma Rights in America by Caren Gussoff Sumption
Boatbuilding: A Journey Through a Dying Industry by Dustin Espey
A Single Black Women's Guide to Surviving A Pandemic by Alicia Crank
50 years after Title IX: Women Athletes Deserve Parity by Sara Kiesler
Gender Identity: A Parent's Transformational Journey With Their Non-Binary Child by Melissa Reaves
Welcome to the Theatre. Please, Turn On Your Cell Phone. by Carl Sander
Book writing tips from a Dyslexic by Anne van Gessel
I Don't Have Imposter Syndrome and Neither Do You! by Ruchika Tulshyan
---
Presented by Ignite Seattle.