Town Hall Seattle and STG present
Howard Schultz
From the Ground Up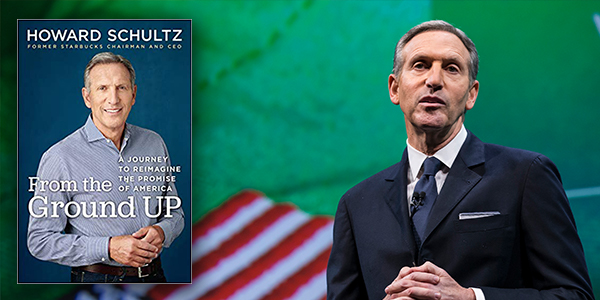 How do we channel our drive, ingenuity, and even pain into something more meaningful than individual success? This question is one of the core ideas that former Starbucks CEO and chairman Howard Schultz has grappled with personally while building one of the world's most iconic brands. Schultz takes Town Hall's stage to share From The Ground Up, two interwoven narratives of a conflicted boyhood in Brooklyn and a behind-the-scenes look at Schultz's unconventional efforts to challenge old notions about the role of business in society. Schultz introduces us to cross-sectional stories of Americans transforming common struggles into shared successes. Sit in with Schultz for a candid memoir—part uplifting blueprint of mutual responsibility and part proof that ordinary people can do extraordinary things.
Howard Schultz is the former chairman and chief executive officer of Starbucks Coffee Company. After founding a small cafe business, he bought Starbucks, which grew from eleven stores to more than 28,000 under his leadership. In 2018, Starbucks ranked fifth on Fortune's list of "World's Most Admired Companies." His other books include Pour Your Heart Into It: How Starbucks Built a Company One Cup at a Time; Onward: How Starbucks Fought for Its Life without Losing Its Soul; and For Love of Country: What Our Veterans Can Teach Us About Citizenship, Heroism, and Sacrifice.
---
Presented by Town Hall Seattle and STG.