Homestead Community Land Trust presents
A Conversation with Dr. Henry Louis Gates Jr.
With Host Vivian Phillips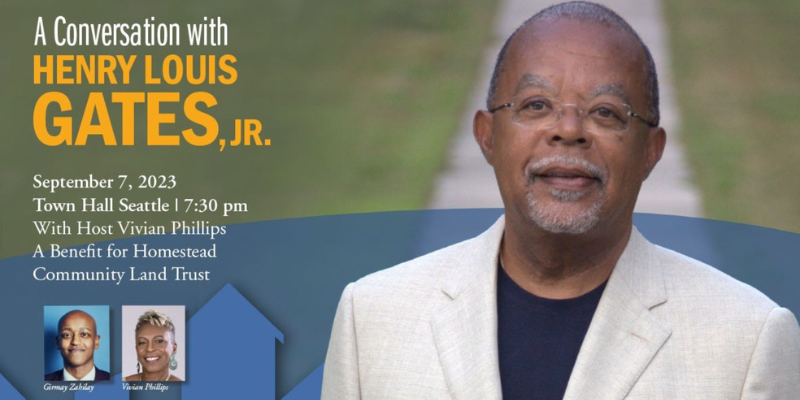 Homestead warmly welcomes Dr. Henry Louis Gates, Jr., celebrated scholar and filmmaker of the African American experience, as their featured speaker at this year's fall event. Proceeds will support Homestead's work to create housing justice in King County.
An Emmy and Peabody Award-winning filmmaker, literary scholar, and journalist, Dr. Gates is an acclaimed cultural critic and institution builder. He is the Alphonse Fletcher University Professor and Director of the Hutchins Center for African & African American Research at Harvard University. Among his many books are the recent New York Times bestseller Stony the Road: Reconstruction, White Supremacy, and the Rise of Jim Crow and The Black Church: This Is Our Story, This Is Our Song. He has also produced and hosted an array of documentary films. The Black Church (PBS) and Frederick Douglass: In Five Speeches (HBO), which he executive produced, each received Emmy nominations. His latest history series for PBS is Making Black America: Through the Grapevine. Finding Your Roots, Gates's groundbreaking genealogy and genetics series, has completed its ninth season on PBS and will return for a tenth season in 2024.
Dr. Gates is unparalleled for his ability to communicate how our lives reflect our histories, and he does so in ways that foster insight, move hearts and inspire action. We look forward to hearing his important perspectives on the historical seeds of present day inequities that make Homestead's work necessary and vital.
Dr. Gates will be interviewed by local arts leader and communicator Vivian Phillips. The event will include remarks by Girmay Zahilay, King County Council Member.
---
Presented by Homestead Community Land Trust.
For more event info and details, visit: https://www.homesteadclt.org/events-news
Questions about the event? Please contact Homestead Community Land Trust at (206)-323-1227.