Event Format:
In-Person Only
Town Hall Seattle and Northwest Folklife present
Nahaan, Adriana Giordano, and Special Guests
From Alaska to Amazonas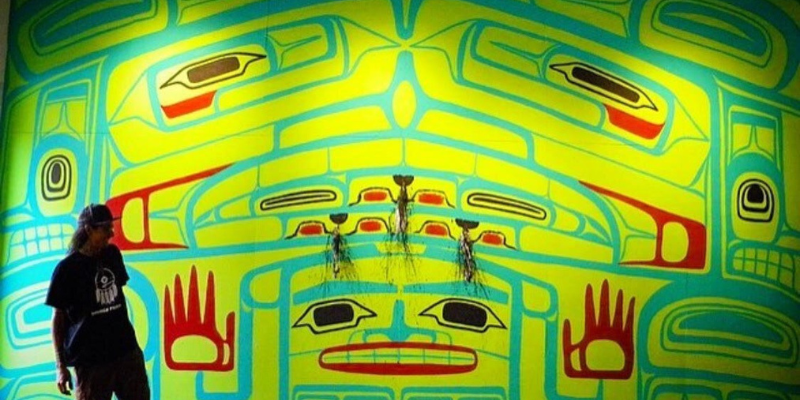 $5
Saturday, February 25, 2023, 11:00AM
The Wyncote NW Forum
1119 8th Ave (Entrance off Seneca St.)
Seattle, Washington 98101
This is an in-person event only, no virtual attendance is available.
Join us for a richly layered experience of music, spoken word poetry, visual art, and resistance drawn from two Native cultures — the Tlingit people of southern Alaska and the Indigenous Brazilian people of the Amazon. Co-created by Nahaan, Tlingit artist of multiple genres and Indigenous activist, and by Adriana Giordano, Seattle's premier Brazilian vocalist, and concert producer, this event will emphasize experience over concept, leading you on an exploration of the paths of Native peoples as they navigate, and resist, the challenges of colonization and climate change. 
Expect powerful storytelling and visuals from Nahaan, who lives and creates art in both traditional Tlingit culture and resistance culture — from ceremonial tattooing to carving and form line art — and allies himself with the Land Back movement. 
Adriana, accompanied by stellar Seattle musicians from different genres, will provide an immersive music and sound experience that evokes the Amazon and Indigenous tribal culture, drawing on recordings of tribal songs, as well as other Brazilian musical genres. This musical mosaic will provide the sensory grounding for the event and will highlight transitions in the shifts between Indigenous Brazilian and Tlingit culture.  
Featuring 
Nahaan – vocals, spoken word 
Adriana Giordano – vocals, triangle and other percussion instruments 
Gabe Hall Rodrigues – piano and accordion 
Julian Weisman – double bass 
Jeff Busch – percussion 
Freddy Gonzalez – trombone and flute 
About Saturday Family Concerts
This half of the season, Town Hall Seattle and Northwest Folklife focus on the theme of Art as Empowerment, exploring how protest music liberates and validates identity. This 4-part series brings awareness to issues that affect everyone at any age, encouraging young people and families to explore their heritage — past, present and future — as a source for individual and collective identity.
As with all of our Saturday Family Concerts, this event is free for ages 22 and under.
---
Presented by Town Hall Seattle and Northwest Folklife. This event is also supported by our media sponsor, Seattle's Child.