UW Foster School of Business presents
Foster Insights
Creating Better Workplaces and Better Lives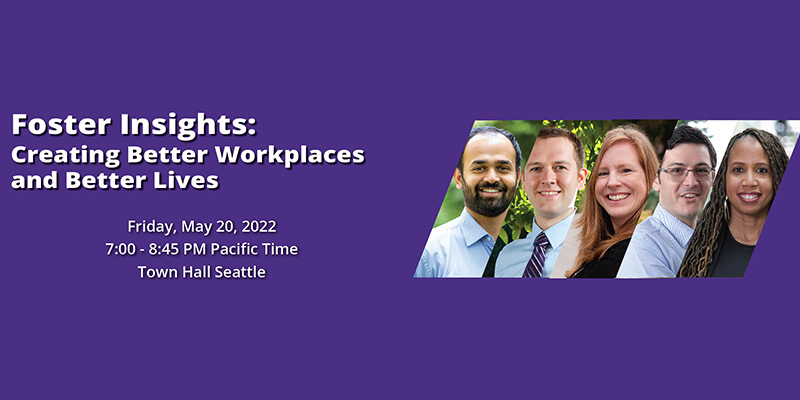 How can business leaders do a better job of improving lives by improving workplaces? Join us for a stimulating evening as faculty experts from the University of Washington Foster School of Business share cutting edge research and novel insights on ways businesses can improve employee well-being without sacrificing profits. Speakers include Stacia Jones, Dean's Impact Scholar and Vice President, Global Head of Inclusion, Diversity, Equity and Action at Lululemon; Ryan Fehr, Professor of Organizational Behavior; Ann Schlosser, Professor of Marketing; Andy Hafenbrack, Assistant Professor of Organizational Behavior; and Abhinav Gupta, Associate Professor of Strategy. These presenters bring a diverse set of backgrounds, expertise, and ideas.
Topics Will Include:
The recent surge in employee engagement in activism against their employers, and how employee activists can more effectively make companies responsive to their concerns.
The power of gratitude in the workplace, and actionable tips for how you can build better relationships through appreciation.
Mindfulness meditation as a tool in the workplace, as well as benefits and drawbacks from this practice.
Navigating the corporate DEI space, and methods for how corporations can create healthy, inclusive, and equitable workplaces for individuals and society.
How social media can influence the ways consumers presents themselves, and the implications for this on consumer well-being, and the spiral of silence.
---
Presented by the UW Foster School of Business.