Earshot Jazz and Seattle Jazz Fellowship present
Fellowship 'Ceptet
Featuring Johnaye Kendrick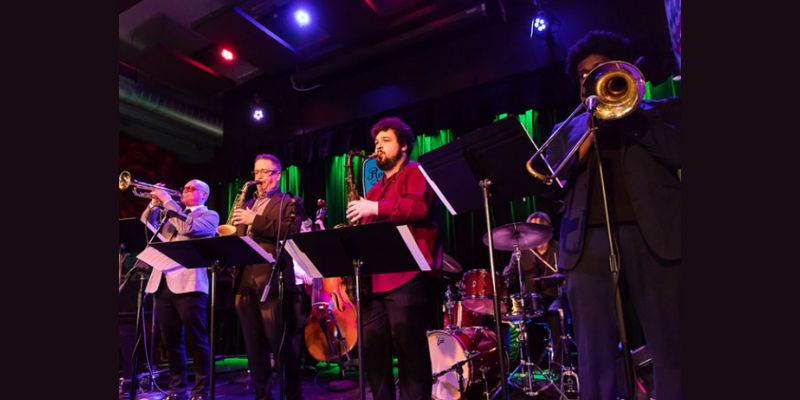 The advocacy and mentorship nonprofit Seattle Jazz Fellowship, founded by Thomas Marriott, presents 'Ceptet, featuring Grammy-nominated vocalist Johnaye Kendrick (säje vocal ensemble), whose several awards include 2020 Earshot Northwest Vocalist of the Year, along with up-and-coming standouts on the Seattle scene. The ensemble includes Johnaye Kendrick (vocals), Beserat Tafesse (trombone), D'Vonne Lewis (drums), Mark Taylor (alto saxophone), Trevor Ford (bass), Jackson Cotugno (Tenor saxophone), Marina Albero (piano), and Thomas Marriott (trumpet).
Beserat Tafesse has performed with prestigious names such as Stefon Harris, Wycliffe Gordon, Ingrid Jensen, Bobby Shew, John Riley, and Dick Oatts. He has played the Riverview Jazz Festival, Upstream Festival, Dizzy's Club, Benaroya Hall, B.B Kings the Monterey Jazz Festival, and now the Earshot Jazz Festival.
D'Vonne Lewis has a background in gospel, funk, and rhythm and blues. He is a self-taught drummer, poet, and musician. Lewis had performed Bucky Pizzarelli, Marian McPartland, Floyd Standifer, Hadley Caliman, and many others.
Mark Taylor is one of the most in demand saxophonists in the Pacific Northwest. A Seattle native and resident, Mark's personal sound and style are a fixture on the local jazz scene and have given him opportunities to perform for audiences all over the United States and Japan.
Trevor Ford took years of theory, music history, and lessons while he simultaneously minored in business, completed two internships, and took an excellent corporate job in Human Resources. This self-identified "Corporate Musician" has a genuine interest in business and loves jazz.
Jackson Cotugno plays in many of Seattle's venues as both a leader and sideman and his next stop is Town Hall. He has studied with Chad Lefkowitz-Brown, Jeff Lederer, David Sanchez, Brian Kent, and many more.
Marina Albero loves composing and improvising with a wide personal language carved by her colorful background. She has played and recorded with several well known musicians and bands including L'Arpeggiata, Chano Dominguez, Pepe Habichuela, La Folata, Mariona Sagarra, Barbarito Torres, Llibert Fortuny, Glen Velez, Lori Cotler, Carlos Saura and Ars Longa.
Thomas Marriott is a jazz trumpeter, composer and producer. He is a veteran of the national jazz scene who's earned eight Golden Ear awards, produced 13 albums as a leader for Origin Records, and toured with greats like Maynard Ferguson and Roy McCurdy, as well as contemporary jazz artists like Orrin Evans and Joe Locke.
About Earshot Jazz
Earshot Jazz cultivates a vibrant jazz community to ensure the legacy and progression of the art form by engaging audiences, celebrating artists, and supporting arts education.
Earshot Jazz COVID-19 Policy: Earshot recommends that all ticket holders be vaccinated. Masks are strongly encouraged unless actively eating or drinking. Policy subject to change. Full policy here.
---
Presented by Earshot Jazz and the Seattle Jazz Fellowship.