Town Hall Seattle and Gage Academy of Art Present
Fay Jones with Gary Faigin
Quite the Cast of Characters: The Lively Art of Fay Jones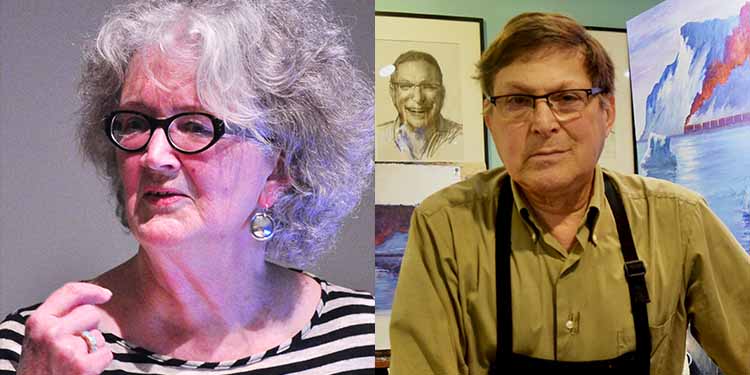 Few Seattle artists are as familiar and beloved as Fay Jones, whose multi-decade career has been remarkably consistent in presenting viewers with a regular cast of characters, like actors in a repertory company. And Jones' work is prolific — her dreamlike paintings can be found throughout the Northwest, gracing public spaces, museums, and galleries. If you live in or have visited Seattle, you've probably seen her work in places like the Westlake Transit Station, where one of her huge murals brings the underground to life with vibrant color and dynamic figures.
Together with Gage Academy of Art cofounder Gary Faigin, Jones talks about the curiosities provoked by her sailors, cowboys, animals, in rollicking, sometimes surreal scenarios.
Fay Jones received a BFA from the Rhode Island School of Design in 1957. Awards she has received include the Joan Mitchell Painters and Sculptors Grant in 2013, the Seattle Art Museum's 2006 Poncho Artist of the Year Award, grants from the NEA in 1983 and 1990, the Washington State Arts Commission in 1984, and La Napoli Art Foundation in 1989. Her work has been extensively collected in the Northwest and is included in the collections of the Portland Art Museum and the Hallie Ford Museum of Art in Oregon, and the Seattle Art Museum and the Tacoma Art Museum in Washington. Major exhibitions include a 2007 retrospective at the Hallie Ford Museum of Art, a 1997 traveling retrospective with the Boise Art Museum, and exhibitions at the Portland Art Museum, the Seattle Art Museum, the Museum of Northwest Art in La Conner, WA, the Anchorage Museum of History and Art, and the Palm Springs Desert Museum in California.
Painter, critic, and author Gary Faigin is cofounder and Artistic Director of Gage Academy of Art in Seattle, as well as the school's Still Life Atelier instructor. Faigin also serves as a Lecturer in the Department of Computer Science & Engineering at the University of Washington, where he teaches facial expressions to graduate animation students and works on a research team studying the human perception of stylized facial expressions. He has taught in art schools across the country including the National Academy of Design and the Parsons School of Design. In 2001, Faigin published his first book, The Artist's Complete Guide to Facial Expression, which has since been translated into seven languages and reprinted sixteen times.