Event Format:
In-Person & Livestream
Earshot Jazz presents
Esthesis Quartet with the Seattle JazzED Messengers
Elementary Sensations of Touch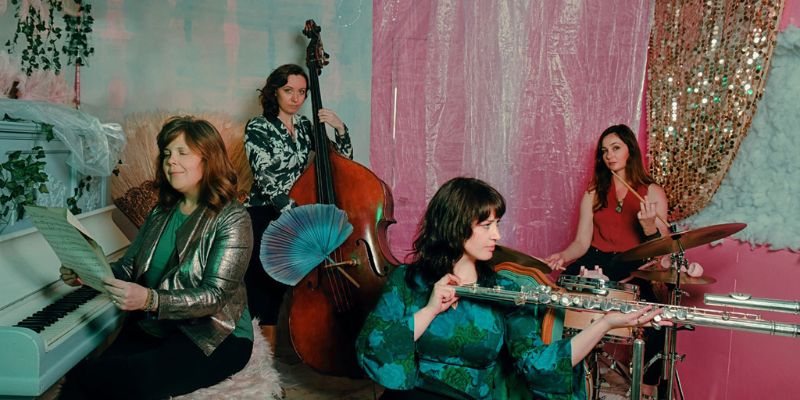 ($10 – $25)
Sunday, October 9, 2022, 7:30PM
The Forum
1119 8th Ave (Entrance off Seneca St.)
Seattle, Washington 98101
A livestream of this event will also be available.
Esthesis (meaning "elementary sensations of touch") is a hard-driving, all-women quartet that includes former Seattleite Dawn Clement, a pianist and vocalist now based in Denver. Arrestingly powerful on flute is Elsa Nilsson, with bassist Emma Dayhuff and drummer Tina Raymond.
Pianist/Vocalist/Composer Dawn Clement has established herself as one of the most sought-after musicians working today. With her joyful presence, consummate technique, and distinctive sound, Clement has gained the attention and respect of musicians, critics, and fans through the US and abroad.
Bassist Emma Dayhuff has performed in a variety of styles and worked as the recording engineer for the Chicago Symphony Orchestra. She has presented master classes in New York, Montana, and Cuba, and was one of the founders of Montana's Livingston Jazz Festival.
Musician and flutist Elsa Nilsson's sound reflects the sense of awareness and urgency of this generation. Her music imbibes the energy of Rock 'n Roll, the cadence of street protest, the visceral improvisations of Jazz, and the compositional language of classical music.
Drummer Tina Raymond is based in Los Angeles, CA. A unique voice in the Los Angeles contemporary improvised music scene, Raymond blends traditional jazz vocabulary with African polyrhythm and classical percussion technique.
Opening: The Seattle JazzED Messengers' students and teachers burn a path to the future of Seattle jazz.
About Earshot Jazz
Earshot Jazz cultivates a vibrant jazz community to ensure the legacy and progression of the art form by engaging audiences, celebrating artists, and supporting arts education.
*Earshot Jazz COVID-19 Policy: Earshot recommends that all ticket holders be vaccinated. Masks are required unless actively eating or drinking. Policy subject to change.
---
Presented by Earshot Jazz.