Town Hall Seattle and Gage Academy of Art Present
Elizabeth Sandvig and Spike Mafford with Gary Faigin
A Celebration of the Work of Michael Spafford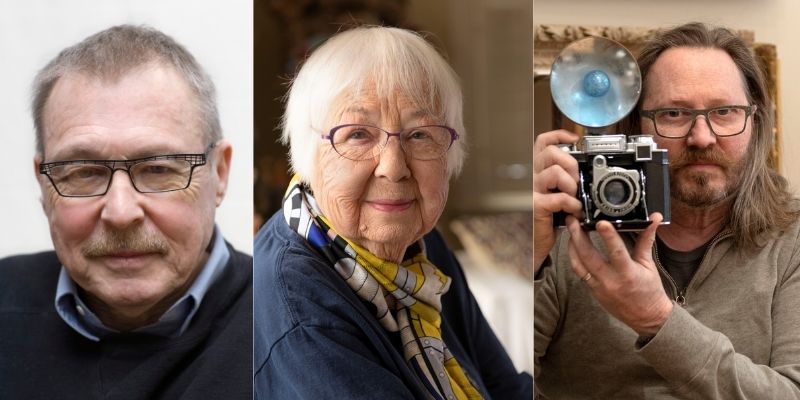 Michael Spafford, who died earlier this year, was one of the most original and important artists of the Northwest, recognized as a key part of our cultural landscape. His artist wife Elizabeth Sandvig and son Spike Mafford will help us look at his work, sharing their insights and stories. The presentation will include videos of Spafford talking about and working on his paintings, as well as a selection of key images from his long career. Sandvig, Mafford, and Faigin examine how his singular focus on dramatic stories from Greek mythology allowed him to create compositions notable for their use of abstraction to communicate sexuality and violent conflict — often in ways more vivid than literal treatments — and how he balanced formal and compositional considerations with a strong desire to channel the intensity of the original narrative.
As an artist, Spafford chose to let his work speak for itself; Faigin, Sandvig, and Mafford will use this opportunity to discuss his methods, content, meaning, and importance as a creator.
The late Michael Spafford taught art and art history at the University of Washington beginning in 1963. Professor Emeritus since 1994, he was an active and influential member of the Seattle arts community. Spafford showed with Francine Seders Gallery from 1966 until the gallery closed in 2013. He continued to paint and exhibit up until his death. Spafford used Greco-Roman mythology as the catalyst for a body of work spanning 60 years. He returned to certain epic tales, including The Labors of Hercules, The Iliad, and The Odyssey, reworking multiple versions in various formats.
Spafford received numerous awards and honors, including Rome Prize Fellowships in 1967 and 1968, a King County Arts Commission's Honors Award, and many more. He was invited to be Artist-In-Residence at Dartmouth College in 2005, which included a major exhibition of recent paintings. He was honored with Lifetime Contribution to Northwest Art Award (shared with wife Elizabeth Sandvig) in 2017. His work is included in the collection of Seattle Art Museum, Tacoma Art Museum, and many others.
Elizabeth Sandvig is a distinguished painter, printmaker, sculptor, and longtime contributor over many decades to the civic and cultural life of Washington State. She was honored at a reception on September 2007 at the Frye Art Museum. Elizabeth was featured on Seattle Channel's ArtZone in 2013.
Spike Mafford is a Seattle-based artist who composes documentary, landscape, and still life photographs taken around the globe.
Painter, critic, and author Gary Faigin is cofounder and Artistic Director of Gage Academy of Art in Seattle, as well as the school's Still Life Atelier instructor. Faigin also serves as a Lecturer in the Department of Computer Science & Engineering at the University of Washington, where he teaches facial expressions to graduate animation students and works on a research team studying the human perception of stylized facial expressions. He has taught in art schools across the country including the National Academy of Design and the Parsons School of Design. In 2001, Faigin published his first book, The Artist's Complete Guide to Facial Expression, which has since been translated into seven languages and reprinted sixteen times.
---
Presented by Town Hall Seattle and Gage Academy of Art.