Town Hall Seattle, Seattle University, and The Seattle Times present
#EducationSoWhite 2018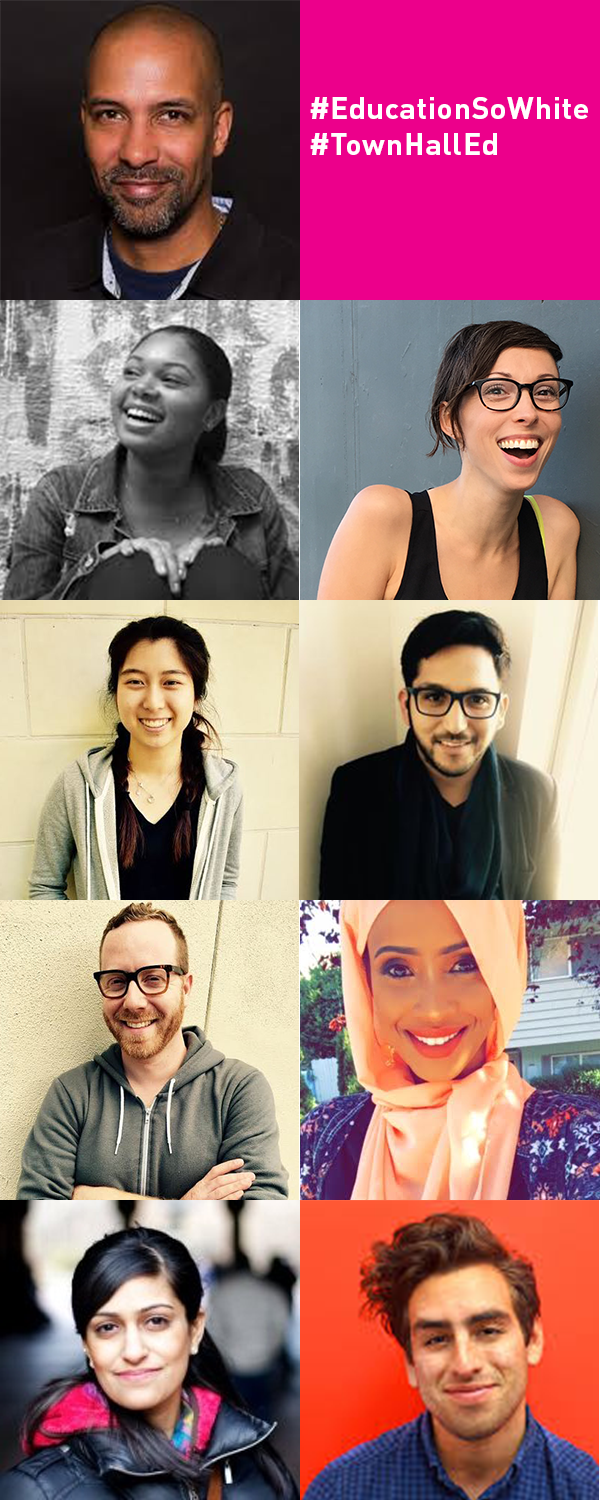 #EducationSoWhite 2018 will be an exciting encore to last year's popular and provocative program!
This year's panel of dynamic education leaders will examine the impact of the culture gaps in our schools separating students and teachers. Topics that will be fueling this event include: the fact that 90% of teachers in Washington State are white although almost half of our students are kids of color, the achievement gap, ideas for solutions in recruiting and retaining teachers of color, equitable restorative justice practices, the school-to-prison pipeline, inclusion—not just tolerance—for LGBTQ/QPOC teachers and students, and more.
This event will include a resource fair from 6:30-7:30 PM with a photo booth and tables from our Community Partners focused on youth and equity.
Don't miss the workshop the day before, Classrooms in Color with TED-Ed Innovators Kristin Leong and Marcos Silva. Only 40 tickets are available, and those who attend gain admission to #EducationSoWhite with the same ticket.
Meet our #EducationSoWhite 2018 Presenters:
Dr. Daudi Abe, Opening Speaker
Dr. Abe is a Seattle-based professor who has taught and written about race, education, and hip-hop for over 20 years. He has appeared on national media such as MSNBC and The Tavis Smiley Show. He has taught students at every grade level from kindergarten through college.
Anika Anand, Moderator
Anika is one of the co-founders of The Evergrey. She was previously with The Seattle Times Education Lab where she worked on Under Our Skin, an interactive project that featured people from across Washington state examining how they define terms like white privilege, racism, and colorblindness.
Marcos Silva, Panelist
Marcos lives and teaches in McAllen, Texas on the US/Mexico border. He is the founder of the South Texas Ideas Festival, which is a student-led conference that is inspiring young people of the Rio Grande Valley to see their bicultural identity and community as an asset to their leadership potential. He is one of 30 international TED-Ed Innovative Educators of 2017.
Kristin Leong, Panelist
Kristin is a 2018 Citizen University Fellow and is one of 30 international TED-Ed Innovative Educators of 2017. She is the founder of RollCallProject.com, which is an international project humanizing the gaps in race, gender, and sexual orientation separating students and teachers. Kristin is a former middle school teacher and three-term Washington State Teacher Leader.
Chardonnay Beaver, Panelist
Chardonnay is an 11th grader in Seattle. She has helped establish two youth organizations committed to fighting racism: New Generation which aims to educate people about issues such as police brutality and implicit bias; and the NAACP Youth Coalition which unites anti-racist groups across Seattle high schools into one powerful coalition.
Shukri Olow, Panelist
Shukri was previously a project coordinator with Seattle Public Schools, where she focused on reducing chronic absenteeism and discipline for African and African American students. She serves on the Somali Health Board and works with Kent Youth and Family Services.
Colin Pierce, Panelist
Colin is a teacher at Rainier Beach High School where he is also the International Baccalaureate Diploma Program Coordinator. Colin is an education reform activist at the local and state policy level, and he travels the country helping educators in other high-poverty communities incorporate IB programs into their schools.
Presented by Town Hall Seattle and The Seattle Times as part of the Civics series.
Community Partners:
ROLL CALL
Students Rebuild
Bureau of Fearless Ideas
Coyote Central
Hugo House
Social Equity Educators
Lambert House
Young Women Empowered (Y-WE)
Youth in Focus
NatureBridge
---