Seattle Arts & Lectures presents
Ed Yong with Wudan Yan
A Q&A about Yong's Pulitzer Prize-winning COVID-19 coverage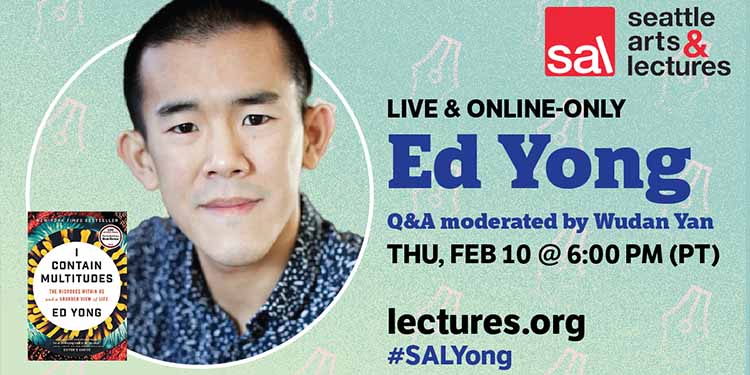 Science journalist Ed Yong writes about everything that is or was once alive, from the microbes that secretly rule the world to the species disappearing from it. As part of the Journalism Series with Seattle Arts & Lectures, Yong will discuss his Pulitzer Prize-winning COVID-19 coverage in a Q&A with journalist Wudan Yan.
A staff writer for The Atlantic, Yong is the author of the New York Times bestseller, I Contain Multitudes, a book about the amazing partnerships between animals and microbes. In examining nature at its most granular, Yong's writing seeks to change our sense of where humans belong within it.
Many think of microbes as germs to be eradicated, but those that live with us — the microbiome — build our bodies, protect our health, shape our identities, and grant us incredible abilities. Part of our immune systems, these microbes also protect us from disease. In 2020, Yong delved deeper into this subject in his coverage of the coronavirus pandemic. His writing was recognized with a 2021 Pulitzer Prize in Explanatory Reporting for, "a series of lucid, definitive pieces on the COVID-19 pandemic that anticipated the course of the disease, synthesized the complex challenges the country faced, illuminated the U.S. government's failures, and provided clear and accessible context for the scientific and human challenges it posed."
Ed Yong is an award-winning science writer who reports for The Atlantic. His work has appeared in The New Yorker, Wired, The New York Times, Nature, New Scientist, Scientific American, The Guardian, The Times, Discover, Slate, and other publications. He lives in London and Washington DC, and has a Chatham Island black robin named after him.
Wudan Yan, the Q&A moderator for the evening, is an independent journalist based in Seattle. She writes about science and society — including the coronavirus pandemic — for The Atlantic, High Country News, MIT Technology Review, New York Magazine, The New York Times, and others.
About Seattle Arts & Lectures
Seattle Arts & Lectures (SAL) cultivates transformative experiences through story and language with readers and writers of all generations. This program is part of their three-part Journalism Series, in partnership with National Book Award-winning writer and correspondent Tim Egan and renowned journalist Sam Howe Verhovek. Learn more about SAL programs here.
---
Presented by Seattle Arts & Lectures.