Ed Goeas and Celinda Lake
How Mutual Respect Could Repair a Fractured Nation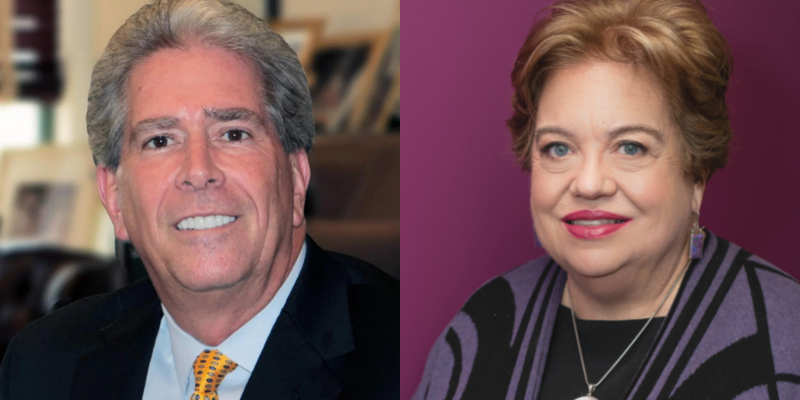 Many of us have found ourselves in dinner-table dustups with friends and family. Politics can cause passions to rise, and by the end of it all, we may discover that the thread of the argument has tread into personal put-downs rather than democratic debate. How can we come together and find common ground with folks who see things differently?
Pollsters and political strategists Ed Goeas, Republican, and Celinda Lake, Democrat, have worked together for more than 30 years to answer that question and get an accurate read on the pulse of the American public. In their respected and widely quoted Battleground Polls, they ask questions and elicit responses that tell us what people think and feel about the most pressing issues of the day.
But their new book, A Question of Respect: Bringing Us Together in a Deeply Divided Nation, isn't about polling — nor does it contain a magic antidote for America's woes. Instead, they offer a political resource that depicts a compelling case for how the nation reached this moment and, more importantly, how we can start to find common ground.
Though Ed is a Republican and Celinda is a Democrat, they have reached across the great divide to make the case that the only way for America to claw its way out of a place of distrust, confusion, and and frustration is through mutual respect. Ed and Celinda join us at Town Hall to discuss how respect is the foundation upon which we can again trust one another as Americans.
For the last thirty years, Ed Goeas has been President/CEO of The Tarrance Group, one of the most respected and successful Republican survey research and strategy teams in American politics. They currently serve as the pollster for 30 current Members of the U.S. House of Representatives, 12 U.S. Senators, and five Governors. Over the last thirty years, the team at The Tarrance Group has elected serval hundred Members of the U.S. House of Representatives and U.S. Senators, and dozens of Governors across the country.
Celinda Lake was one of two main pollsters for the Biden campaign, is the only Democratic pollster to play a major role in defeating two incumbent presidents, and is a prominent pollster and political strategist for progressives. Celinda currently serves as President of Lake Research Partners. Lake's polling and strategic advice have helped candidates such as Representative Alexandria Ocasio-Cortez, Senator Jon Tester, Senator Debbie Stabenow, and former Governor Bob Wise to groundbreaking wins, and her expertise guided former Senator Mark Begich to victory, making him the first Senate candidate in Alaska to oust an incumbent in 50 years. Celinda works with innovative messaging projects that help redefine language on the economy, inequality, big money in politics, climate change, public schools, teachers, criminal justice reform, and has worked in-depth on the Race Class Narrative work with Anat Shenker-Osorio.
---
Presented by Town Hall Seattle.