E.J. Dionne with Ross Reynolds
Uniting Progressives and Moderates to Save Our Country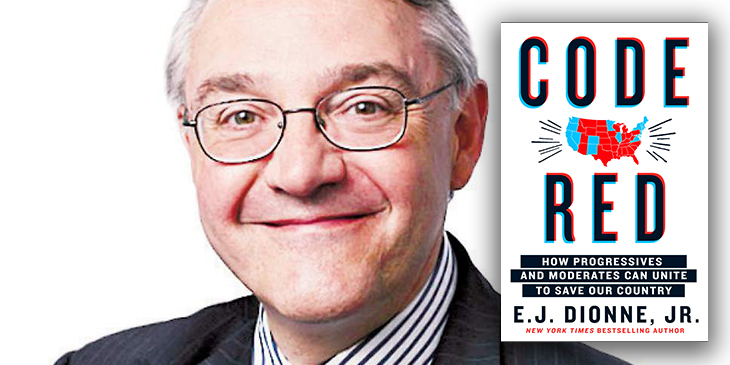 Broad and principled opposition to Donald Trump's presidency has drawn millions of previously disengaged citizens to the public square and to the ballot boxes. Journalist E.J. Dionne steps up to Town Hall's stage to comment on this inspired and growing activism for social and political change—an outpouring of engagement which hasn't been seen since the days of Franklin Roosevelt's New Deal policies and the Progressive and Civil Rights movements. He draws from his book Code Red: How Progressives and Moderates Can Unite to Save Our Country to call for a shared commitment to decency and a politics focused on freedom, fairness, and the future.
In conversation with KUOW's Ross Reynolds, Dionne cautions that if progressives and moderates are unable or unwilling to overcome their differences, they could not only enable Trump to prevail again but also squander an occasion for launching a new era of reform. Offering a unifying model for furthering progress, Dionne encourages progressives and moderates to explore common ground and expand the unity that brought about Democrat victories in the 2018 elections. Breaking through the partisan noise and cutting against conventional wisdom to provide a realistic look at political possibilities, Dionne offers us a strategy for progressives and moderates to think more clearly and accept the responsibilities that history now imposes on them.
E.J. Dionne writes about politics in a twice-weekly column for The Washington Post. He is also a government professor at Georgetown University, a visiting professor at Harvard University, a senior fellow in governance studies at the Brookings Institution and a frequent commentator on politics for NPR and MSNBC.
Ross Reynolds is the Executive Producer of Community Engagement at KUOW. He creates community conversations such as the Ask A events, and occasionally produces arts and news features.
---
Presented by Town Hall Seattle.