Dungeons & Dragons
Art and Arcana: A Visual History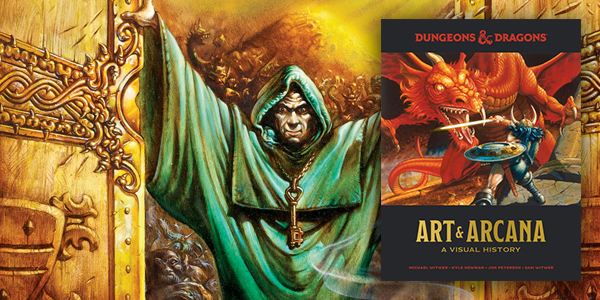 Dungeons & Dragons has become one of the most iconic game brands in the world. Since its genesis in 1974 the game has expanded far beyond its humble beginnings, and its scope increased by magnitudes after its induction into the publishing realm of Wizards of the Coast, based in Washington. To take us on an unprecedented journey through the visual evolution of the brand, the author team of Michael Witwer, Kyle Newman, and Jon Peterson will be joined by the creators of the 5th edition of the game, Jeremy Crawford and Chris Perkins from Wizards of the Coast. The panel, sharing highlights from Dungeons and Dragons Art and Arcana, will be moderated by Greg Tito, co-host of Dragon Talk.
This team of authors offer us a look at never-before-seen sketches, large-format canvases, rare photographs, one-of-a-kind drafts, and more. They share artistic findings from the archives of Wizards of the Coast, the personal compilations of top collectors, and conversations with the designers and illustrators who created the distinctive characters, concepts, and visuals that have defined fantasy art and gameplay for generations. Sit in for a crash course in gaming history, and explore the most comprehensive collection of D&D imagery ever assembled.
In the spirit of Halloween—and as a celebration of the art and aesthetic of D&D—we're encouraging audience members to attend this event in costume! You'll have the chance to pose for photos and be entered to win a raffle for a prize package provided by Wizards of the Coast.
Seattle nonprofit organization Books to Prisoners will be in attendance to collect D&D manuscripts. To spread the enjoyment of D&D and foster a love of reading behind bars, we encourage audiences to bring Dungeons & Dragons reading material to donate to inmates across the country. For more information, visit the Books to Prisoners website or seek out their table at this event!
(The contest supporting Dungeons and Dragons Art and Arcana is not administrated, sponsored, or endorsed by Wizards of the Coast.)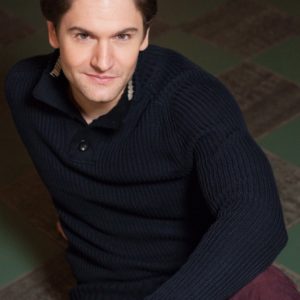 Michael Witwer is the author of the critically acclaimed Empire of Imagination: Gary Gygax and the Birth of Dungeons & Dragons. Michael is widely considered an expert on D&D history and has discussed the topic on NPR's All Things Considered, at the Boston Book Festival, at Gen Con, and elsewhere.
Kyle Newman is a writer/director whose work includes Fanboys written by Ernie Cline, starring Kristen Bell and Seth Rogen; Barely Lethal, starring Samuel L. Jackson, Hailee Steinfeld, and Jessica Alba; and music videos for artists including Lana Del Rey and Taylor Swift.
Jon Peterson is a widely recognized authority on the history of games. His book Playing at the World was called "the first serious history of the development of Dungeons & Dragons" by The Village Voice. He has contributed to academic anthologies on games including Zones of Control and the forthcoming Role-Playing Game Studies: Transmedia Foundations.
Christopher Perkins is the lead story designer for the Dungeons & Dragons tabletop roleplaying game. A gaming industry veteran, Chris has written or contributed to more than three hundred books and articles over the past thirty years. He is also a world-famous Dungeon Master who performs on live-streamed D&D shows, including Acquisitions Incorporated and Dice, Camera, Action!
Jeremy Crawford is the co-lead designer of fifth edition Dungeons & Dragons. He led the design of the Player's Handbook and now oversees the creation of rules and books for the D&D tabletop roleplaying game. Over the years, he has worked on many books for D&D and other games, including Blue Rose, Mutants & Masterminds, and Warhammer Fantasy Roleplay.
Greg Tito has had a weird and long career as an Off Broadway stage manager, a playwright, a theater carpenter, a secretary, an RPG designer, a games journalist, and now a PR/Marketing person. He has loved Dungeons & Dragons ever since 1985 when he found an old copy of the AD&D Dungeon Master's Guide on his brother's bookshelf.
Presented by Town Hall Seattle.