Event Format:
In-Person Attendance + Livestream
Town Hall Seattle and Seattle's Child present
Dr. Ibram X. Kendi
How to Raise an Antiracist
($36 – $42)
Thursday, June 23, 2022, 7:30PM
The Great Hall
1119 Eighth Avenue (enter on Eighth Avenue)
Seattle, WA 98101
A livestream of this event will also be available.
BUY THE BOOK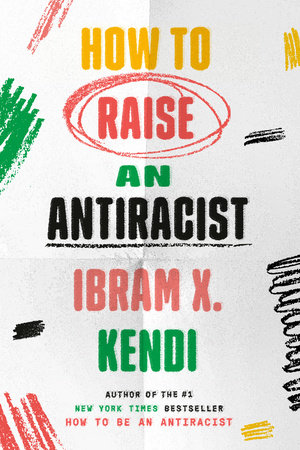 We're pleased to partner with two local booksellers to bring you How to Raise an Antiracist (Hardcover) by Ibram X. Kendi. Preorder your copy from our friends at Elliott Bay Book Company or Third Place Books.
---
The tragedies and reckonings around racism that have rocked our country have created a specific crisis for parents and other caregivers: How do we talk to our children about racism? How do we raise our children to avoid repeating our racist history and the ongoing errors of the present? While we do the work of dismantling racist behaviors in ourselves and the world around us, how do we raise our children to be antiracists?
These are all questions Dr. Kendi had been asking himself ever since he became a teacher — but the question became more personal and urgent when he found out his partner, Sadiqa, was pregnant. Like many parents, he didn't know how to answer the question — and wasn't sure he wanted to. He didn't want to educate his child on antiracism; he wanted to shield her from the toxicity of racism altogether.
With research and experience, Dr. Kendi changed his mind. He realized that antiracism has to be taught and modeled as early as possible — not just to armor children against the racism still indoctrinated and normalized in their world, but to remind parents and caregivers to build a more just future for us all.
In How to Raise an Antiracist, Kendi combines vital scholarship with a compelling personal narrative of his journey as a parent to create a work grounded in research and relatable real-world experience. The chapters follow the stages of child development from pregnancy to teenager; they don't just help parents to raise antiracists, but also to create an antiracist world where they can grow and thrive.
Dr. Ibram X. Kendi is the Andrew W. Mellon Professor in the Humanities at Boston University and the founding director of the BU Center for Antiracist Research. He is a contributing writer at The Atlantic and a CBS News racial justice contributor. He is the host of the new action podcast Be Antiracist. Dr. Kendi is the author of many highly acclaimed books including Stamped from the Beginning: The Definitive History of Racist Ideas in America, which won the National Book Award for Nonfiction, making him the youngest-ever winner of that award. He has also produced five straight #1 New York Times bestsellers, including How to Be an Antiracist, Antiracist Baby, and Stamped: Racism, Antiracism, and You, co-authored by Jason Reynolds. In 2020, Time magazine named Dr. Kendi one of the 100 most influential people in the world. He was awarded a 2021 MacArthur Fellowship, popularly known as the Genius Grant.
On June 14, 2022, Dr. Kendi will also publish Goodnight Racism (Kokila), a modern bedtime classic illustrated by Cbabi Bayoc that gives children the language to dream of a better world.
---
Presented by Town Hall Seattle and Seattle's Child. This event is sponsored by The Boeing Company.