Town Hall Seattle and American Farmland Trust present
Don Stuart with Addie Candib
No Farms, No Food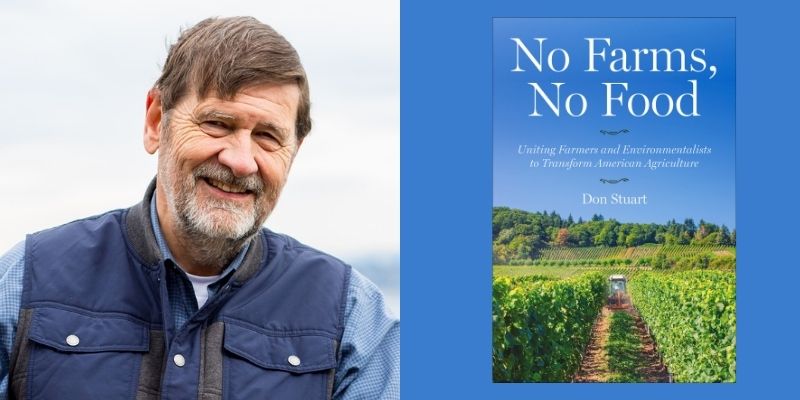 Farmers and environmentalists haven't always seen eye-to-eye about the best ways to manage agricultural landscapes, but America's farms are vital to preserving ecosystems and a stable climate. How might the two come together to unite for the common good?
In No Farms, No Food, longtime farm, fisheries, and environmental policy advocate Don Stuart takes readers inside the political and policy battles that determine the fate of our nation's farmland. Stuart traces the history of agriculture conservation and the development of American Farmland Trust (AFT), from its small beginnings in 1980 to a formidable constituency of farmers and environmentalists.
With leadership from AFT, that constituency drove through Congress the first "Conservation Title" in the history of the U.S. Farm Bill; oversaw the development of agriculture conservation easement programs throughout the country; and continues to develop innovative approaches to sustainable agriculture.
Together with Addie Candib, the current Pacific Northwest Regional Director for American Farmland Trust, Stuart discusses tactics for bringing people together to work for healthy land and a healthy food system.
Don Stuart has worked in natural resources and the environment for over 40 years, half of which included intensive legislative lobbying on farm, fisheries, and environmental policy. From 2000-2011, he served as Pacific Northwest Regional Director for American Farmland Trust, a national environmental organization that protects agricultural lands and supports their environmentally responsible management. Previously, he was Executive Director for the Washington Association of Conservation Districts and Executive Director for Salmon for Washington. Don was also the campaign manager and public spokesperson in the successful defense of a Washington statewide anti-commercial fishing ballot initiative (I-640) in 1995 and he ran for the U.S. Congress in Washington's First District in 1996. Don is also a former Alaska commercial salmon troll fisherman, a formerly practicing Seattle trial attorney, and was a Lieutenant in the U.S. Navy Judge Advocate General's Corps during the Vietnam War. His opinion column on fish politics appeared monthly in the Fishermen's News from 1990-96. He is the author of several books, including Barnyards and Birkenstocks: Why Farmers and Environmentalists Need Each Other (2014).
Addie Candib serves as Pacific Northwest Regional Director for American Farmland Trust, overseeing the organization's programs and policy efforts in Washington, Oregon, and Idaho. Addie has worked at the intersection of agriculture and the nonprofit sector for over 10 years. In addition to having direct experience working on farms, she is a seasoned grassroots advocate; she helped form the Washington Young Farmers Coalition in 2010 and served on the Board of Directors for Tilth Alliance from 2012-2017. Addie began her career in farmland protection at the Community Farm Land Trust in Olympia, Washington, and she has been passionate about farmland access and affordability ever since. Addie is also trained in mediation and conflict resolution, and volunteers at a community-based dispute resolution center. Addie holds a Bachelor of Arts from Swarthmore College and a Master of Public Administration from The Evergreen State College, where her capstone work explored financing strategies for farmland protection. She lives with her family in Bellingham, WA.
---
Presented by Town Hall Seattle and American Farmland Trust.