David DeSteno with Lisa Feldman Barrett
How religion helps the mind and body, regardless of faith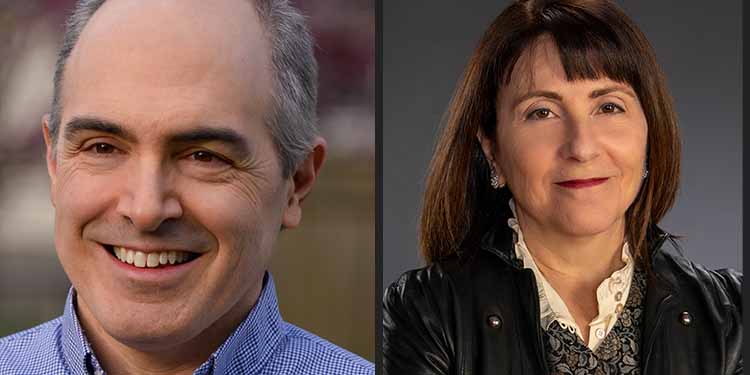 Seattle is one of the least religious cities in the nation; as a whole, the Pacific Northwest region has a higher population of religiously unaffiliated people than anywhere else in the U.S. Is our statistically godless corner of the country missing out on key benefits of religious practice? In his new book, How God Works, research psychologist David DeSteno argues that religious practices and rituals do offer a host of benefits to anyone who follows them. But it's not the faith (or lack thereof) that matters.
Whether or not a person identifies as religious or not, countless rituals exist in their lives on a daily, monthly, and yearly basis, from preparing a morning cup of coffee to celebrating a birthday. For as long as humans have existed, they've marked big and small moments with ceremonies, rhythms, and rituals. While many rituals are secular, religion offers a certain kind of dependable ritualistic framework for events like childbirth, puberty, death, and beyond — and there are benefits to show for it. DeSteno describes how such practices can strengthen human bonds, ease major life transitions, support mental clarity, and provide comfort in times of grief. While none of these practices are particularly new, looking at them through the lens of science offers insight into what helps the mind and body navigate some of life's toughest challenges, regardless of what one believes.
David DeSteno, PhD, is a fellow of the Association for Psychological Science and the American Psychological Association, for which he served as editor-in-chief of the journal Emotion. His work has been repeatedly funded by the National Science Foundation and has been regularly featured in the media, including The New York Times, The Wall Street Journal, CBS Sunday Morning, NPR's Radiolab and On Point, and USA Today. In addition to How God Works, he is the author of Emotional Success, The Truth About Trust, and co-author of The Wall Street Journal spotlight psychology bestseller Out of Character. He frequently writes about his work for major publications including The New York Times, The Atlantic, Harvard Business Review, The Washington Post, and The Los Angeles Times.
Lisa Feldman Bennett, PhD, is a University Distinguished Professor of Psychology at Northeastern University. She also holds appointments at Harvard Medical School and Massachusetts General Hospital, where she is Chief Science Officer for the Center for Law, Brain & Behavior. In addition to the books Seven and a Half Lessons About the Brain and How Emotions are Made, Dr. Barrett has published over 240 peer-reviewed, scientific papers appearing in Science, Nature Neuroscience, and other top journals in psychology and cognitive neuroscience, as well as six academic volumes published by Guilford Press. She is among the top 1% most cited scientists in the world for her revolutionary research in psychology and neuroscience.
---
Presented by Town Hall Seattle.