Cascade Public Media presents
Crosscut Festival 2022
Keynote Speaker Nikole Hannah-Jones with Christopher Sebastian Parker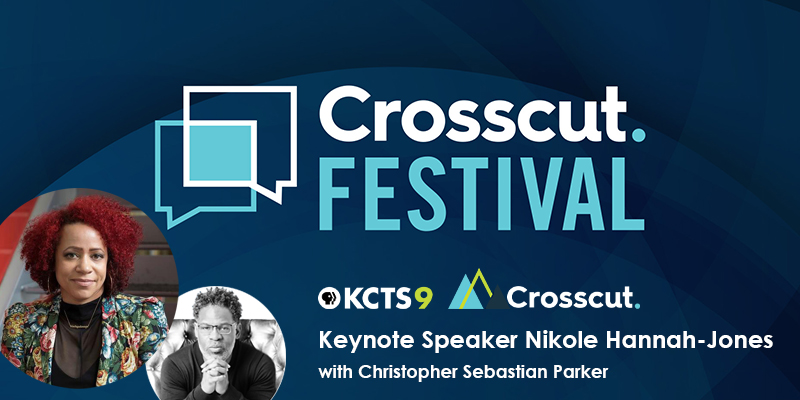 The Crosscut Festival returns in 2022 in a hybrid format, featuring in-person sessions and streaming online events. Speakers from across the nation and around the region will join us to consider issues in politics, social justice, the economy, science, the environment, innovation, and much more.
Keynote Speaker Nikole Hannah-Jones
Nikole Hannah-Jones's landmark 1619 Project challenged our country to rethink and reframe American history, to account for the brutal legacy of slavery. It also shook up the conversation about race everywhere, from our national politics to our local school rooms. Now with her new book that expands the project, Nikole Hannah-Jones returns with a lot more to say. Learn more about Nikole.
Christopher Sebastian Parker, Ph.D., joins Hannah-Jones as moderator. Parker is the Stuart A. Scheingold Professor of Social Justice and Political Science in the Department of Political Science at the University of Washington. Learn more about Christopher.

For full details on this year's festival, click here. 
---
About the Crosscut Festival
The Crosscut Festival is a celebration of big ideas and bold thinking — a gathering of a community of the curious. Connect with noteworthy political leaders and newsmakers along with authors, journalists and experts focused on the most important issues of our time. The Crosscut Festival features a week of virtual and in-person interviews, live podcast recordings, panels, networking, and special events that explore forward-thinking in Politics, Social Justice, the Environment, Technology, Innovation, and more.
About Crosscut
Crosscut believes that an informed public is essential to solving the challenges of our time. As the Pacific Northwest's independent, reader-supported, nonprofit news site, Crosscut strives to provide readers with the facts and analysis they need to intelligently participate in civic discourse and to create a more just, equitable, and sustainable society. Crosscut is a service of Cascade Public Media.
---
Presented by Cascade Public Media.