Town Hall Seattle and World Without Hate present
Combating Hate: Empathy Through Storytelling (livestream)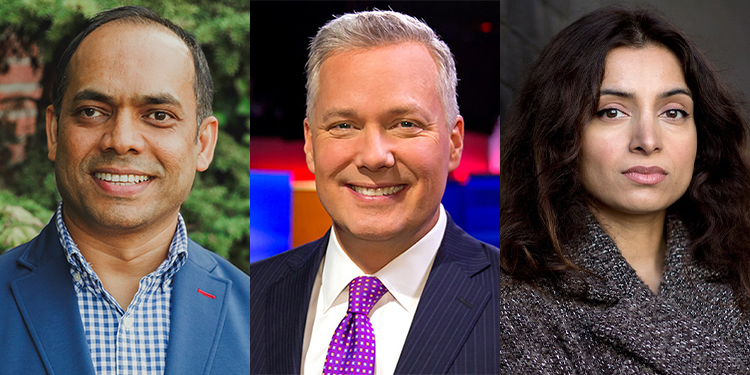 World Without Hate seeks to replace hate and violence with empathy and love, restoring peace through storytelling and empathy education. They call together a panel of speakers from different storytelling backgrounds exploring the ways that empathy and stories help us connect with others. Through the transformative power of compassion, World Without Hate invites us to renew feelings of hope and empowerment in the face of divisive rhetoric and rising hate crimes across our nation. Come together via livestream to explore the possibility of a world without hate, and reflect on the important tools that we all can utilize to build bridges and make connections.
Rais Bhuiyan is the Founder and President of World Without Hate, an international motivational speaker, and a human rights advocate. Ten days after 9/11, a white supremacist in Dallas shot Rais from point blank range. And ten years after the shooting, Rais was able to respond to his hate and violence with forgiveness, empathy, and love. He led what became an international campaign to try and save his attacker from death row.
Mark Wright is an award-winning anchor for KING 5, the NBC affiliate for Seattle. He is a four-time Emmy winner for his work as a documentary producer, anchor, and reporter. A native Washingtonian, Mark is a dedicated servant leader including as Rotary Club of Seattle President in 2017/18 and as a current board member of World Without Hate.
Deeyah Khan is a two-time Emmy Award-winning and twice BAFTA-nominated documentary film director. For her most recent film, White Right: Meeting the Enemy, Khan travelled to the United States to film with neo-Nazis, including attending the now-infamous Unite the Right rally in Charlottesville. She is also the founder of Fuuse, a media and arts company that puts women, people from minorities, and third-culture kids at the heart of telling their own stories.
---
Presented by Town Hall Seattle and World Without Hate.