Clive Thompson with Mónica Guzmán
The Culture of Coders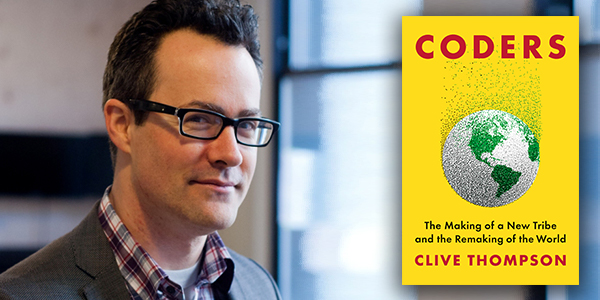 Facebook's algorithms shaping the news, self-driving cars roaming the streets, revolution on Twitter, and romance on Tinder. We live in a world constructed of code—and coders are the ones who built it for us. Acclaimed tech writer Clive Thompson joins us for a Town Hall conversation on Coders, an anthropological reckoning with the most powerful tribe in the world today. Thompson is joined onstage by Evergrey co-founder Mónica Guzmán, and together they explore the psychology of the invisible architects of our culture. They dive into the passions and values of coders, and wrestle with the major coding controversies of our era—from the "disruption" fetish of Silicon Valley to the struggle for inclusion by marginalized groups.
Thompson and Guzmán invite us to examine code as a marvelous new art form, and contend that in order to understand the world today we need to understand code, its culture, and its consequences.
Clive Thompson is a longtime contributing writer for The New York Times Magazine and a columnist for Wired. He is the author of Smarter Than You Think: How Technology is Changing Our Minds for the Better.
Mónica Guzmán is a Seattle journalist and co-founder of The Evergrey. Her work has appeared in numerous publications, including GeekWire, The Daily Beast, the Columbia Journalism Review, and The Seattle Times.
---
Presented by Town Hall Seattle.