Claire Dederer with Sonora Jha and Angela Garbes
Monstrous Artists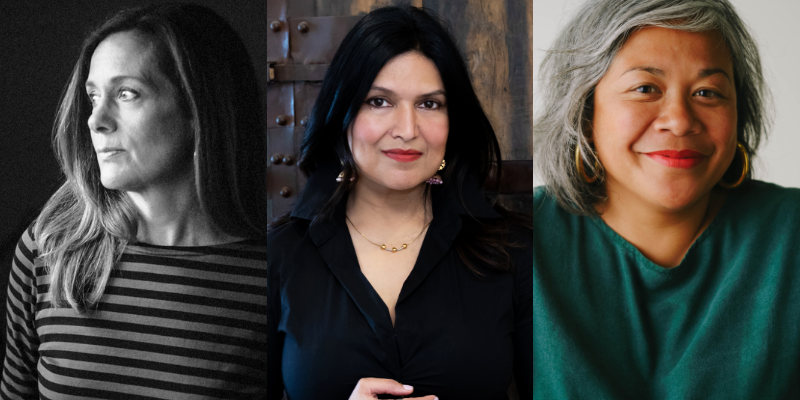 A free post-event discussion is available after this event. See below for more information and registration.
---
Can we still love the work of Hemingway, Polanski, Naipaul, Miles Davis, or Picasso? Should we love it?
In this unflinching, deeply personal book that expands on her instantly viral Paris Review essay, "What Do We Do with the Art of Monstrous Men?" Claire Dederer asks: Does genius deserve special dispensation? Is male monstrosity the same as female monstrosity? Does art have a mandate to depict the darker elements of the psyche? And what happens if the artist stares too long into the abyss? She explores the audience's relationship with complicated artists, asking: How do we balance our undeniable sense of moral outrage with our equally undeniable love of the work?
In a more troubling vein, she wonders if an artist needs to be a monster to create something great. And if an artist is also a mother, does one identity inexorably, and fatally, interrupt the other? Highly topical, morally wise, honest to the core, Monsters is certain to incite a conversation about whether and how we can separate artists from their art.
Claire Dederer is a bestselling memoirist, essayist, and critic. Her books include the critically acclaimed Love and Trouble: A Midlife Reckoning, as well as Poser: My Life in Twenty-three Yoga Poses, which was a New York Times bestseller. Poser has been translated into eleven languages, optioned for television by Warner Bros., and adapted for the stage.
Sonora Jha is the author of the memoir How to Raise a Feminist Son and the novel Foreign. After a career as a journalist covering crime, politics, and culture in India and Singapore, she moved to the United States to earn a PhD in media and public affairs. Dr. Jha's op-eds, essays, and public appearances have been featured in the New York Times, on the BBC, in anthologies, and elsewhere. She is a professor of journalism at Seattle University. Her new novel, The Laughter, has opened to rave reviews from The New York Times, Washington Post, Kirkus Reviews, and others. 
Angela Garbes is the author of Essential Labor: Mothering as Social Change, called "a landmark and a lightning storm" by the New Yorker. Essential Labor was named a Best Book of 2022 by both the New Yorker and NPR. Her first book, Like a Mother, was also an NPR Best Book of the Year. Her writing has appeared in The Atlantic, The New York Times, New York Magazine, and featured on The Daily Show with Trevor Noah and Fresh Air with Terry Gross. A first-generation Filipina American, Garbes lives with her family on Beacon Hill.
---
Conversation Club: A Post-Event Discussion with Ronit Plank
Stick around after Claire Dederer's talk for an opportunity to process and personalize the content of the event. In a small group setting, guest facilitator Ronit Plank, Seattle-based writer, teacher, and editor whose work has been featured in The Atlantic, The Washington Post, The New York Times, will create space for participants to go further with the topics presented onstage.
Seats for the discussion are limited. Conversation Club will be held in person only in The Library, and will not be recorded.
---
Presented by Town Hall Seattle.