Seattle City Club and Crosscut present
Civic Cocktail: Safe and Sound
A Conversation with Seattle Police Chief Adrian Diaz and Community Leaders on Public Safety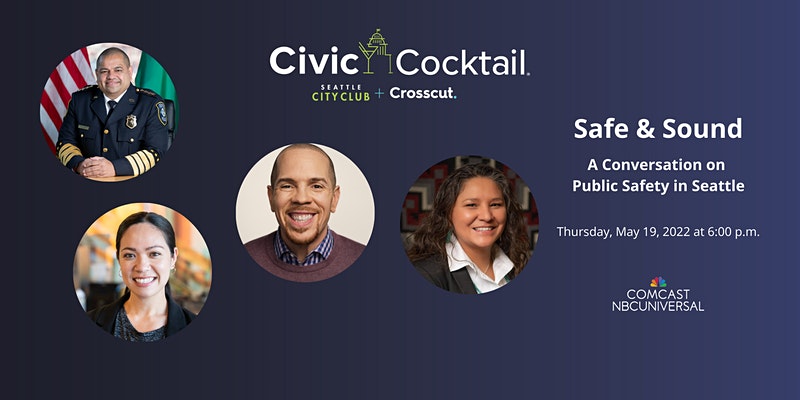 Join Civic Cocktail and Crosscut as they dive into a two-part discussion about public safety in Seattle. The first panel conversation features soon-to-be-announced community leaders who will offer their unique insights about what public safety means to them and their vision for a safer Seattle. Then, Civic Cocktail host Mónica Guzmán will lead a discussion with Seattle Police Department's Chief Adrian Diaz about how law enforcement is addressing safety concerns and what changes it has made in the past few years to improve responses.
Civic Cocktail attendees can expect to leave with a broader understanding of the safety concerns affecting their community along with action items from Washington State's largest law enforcement agency.
For questions about this event, please reach out to Seattle CityClub by phone (206)682-7395.
About Civic Cocktail
Civic Cocktail connects elected and community leaders with the public for lively conversations about important issues facing our region. Whether you're new to the Pacific Northwest, a self-described "civic nerd," or looking to meet people engaged in their communities, your evening at this beloved program is sure to be friendly, fun, and fascinating. Civic Cocktail's welcoming and conversational tone is inspired by our Dialogue Across Differences initiative. We hope you can join in person, where the conversation happens over tasty bites and festive libations, but you can still enjoy the experience wherever you are by watching virtually. The Civic Cocktail 2022 season is hosted by journalist Mónica Guzmán in partnership with Crosscut.com.
About Seattle CityClub
Seattle CityClub is a nonprofit organization improving the civic health of the Puget Sound region by providing programs that bridge politics, sectors, and generations to inform and engage residents and community leaders. Every year, Seattle CityClub programs serve over 4,000 Puget Sound residents in-person, and an additional 26,000 residents through social media and website content.
About Crosscut
Crosscut.com is a nonprofit, publicly supported newsroom. It is part of Cascade Public Media, which also owns and operates KCTS 9, Seattle's PBS station. Cascade Public Media serves the Pacific Northwest and its mission is to inspire a smarter world by committing to exceptional public television programming and local public interest journalism
---
Presented by Seattle CityClub and Crosscut.